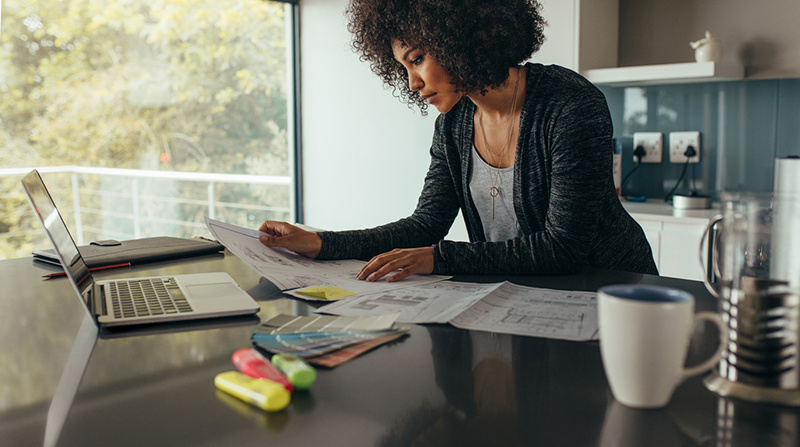 Working from home can bring its own set of difficulties. From the typical TV or phone distraction to interruptions by family members, it can be hard to create a solitary home office space. Even more so, COVID-19 has completely changed the way some of us have to work. 
To help keep you from everyday distractions, you can create an inviting home office with accessories and furniture that will keep you motivated. 
The most ideal home office will have a balance of comfort and productivity. While we might have thought the COVID-19 working procedures would change, some of us are still working from home. By creating an ergonomic workspace, you can work efficiently while still enjoying your home environment. 
For tips on home office decor, you can follow our advice below on how to do your best work from home. 
Ergonomic Workspaces: The Home Office
An ergonomic workspace is a room that is designed for efficiency and comfort. In your home environment, you can design and furnish however you want. The main furniture piece you will want to consider is a desk. 
The desk you choose should meet the unique needs in your work life and home life. Different types of desks you can consider include: 
L-shaped desks are for individuals in the workforce with lots of paperwork or big architectural plans. 

An executive desk is helpful to those who need extra drawers for file storage and office accessories.

A writing desk is an ideal piece for someone who needs less desk space and more room space. A writing desk will hold a computer, monitor, and mouse pad. If you are confined to a smaller area and can only fit a writing desk, a built-in keyboard drawer will free the workspace above.
Creating a design that will allow you to work most effectively and efficiently is the influence behind an ergonomic workspace. Having a defined area for your workspace can motivate you to get more work done. 
Some home office decoration ideas to incorporate in your home office design may include filing cabinets, bookcases, plants, natural light, and wall art.
Filing Cabinet 
Those cold, metal filing cabinets you might be picturing are out. Instead, you can purchase a functional wood filing cabinet. One made of wood can be characterized with beautiful carvings and sleek hardware. 
Keeping a filing cabinet will help your office stay organized. Furthermore, purchasing a filing cabinet with a lock will keep your sensitive work-related papers secure.
Bookcases
Placing a bookcase in your office allows you to exhibit a variety of your favorite items. From family photos to a favorite collectible, you can display your items in a space that you will see every day. 
A bookcase is easy to decorate and allows you to change your home office decor style as you please. 
Some items you could put on the shelves might include:
Books

Pictures

Plants

Sculptures / Figurines 

Vase
Plants add life to home office spaces. Whether you place a fake or real plant, they can create a calming impact on your workspace.
By placing a plant in your office you can benefit from:
Reduced stress

Increased productivity

Cleaner air

Improved oxygen levels
An artificial plant is also a great home office decoration. It can bring the same calming impact of a live plant without the hassle.
Natural Light
Having a window that creates natural light in your office can instantly energize a workspace. 
Natural light will help you:
Feel happier

Get better sleep at night

Boost your vitamin D

Be more productive
To get the most of the natural light from your window, you can position your desk to face the window. To further the feeling of a light and airy space, you can add natural accents as home office decoration items. 
If your office space does not have a window that creates natural light, you can hang a canvas to create the illusion of a window. 
Adding wall art to your home office decor can make an otherwise dull space, feel brighter and larger.
Home Office Decor Help For You
From finding the right bookcase to display your plants to hanging a canvas, creating a space with home office decor can be overwhelming. 
If you are one of those individuals that find decor a stressful topic, matching furniture sets is a great solution. Home office sets can include any of the following pieces:
Office chair

Bookcase

Hutch
Home office sets range in a variety of styles and make it manageable for anyone during times like COVID-19 to make easy purchases and create a satisfying office space. 
If you need help finding the perfect home office decor items for your newly revamped space, contact us today.