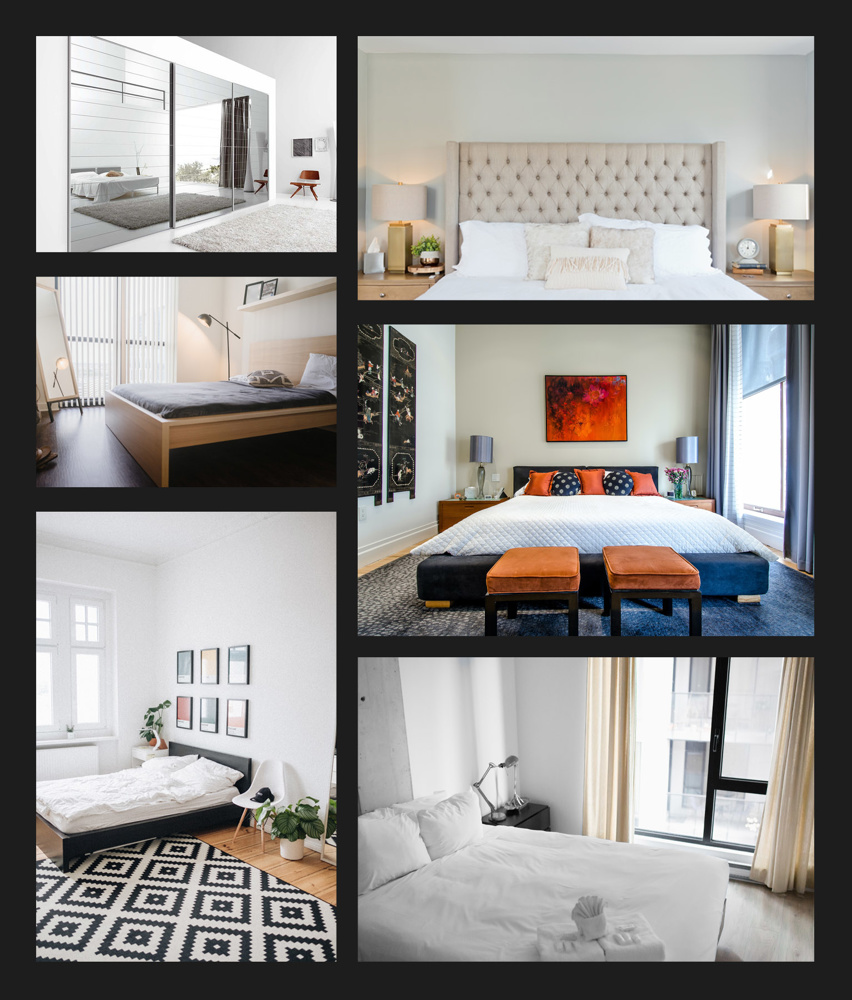 Bigger is not always better, especially when talking about a bedroom. Modern and luxurious design ideas have recently recommended for people to go big or go home with their master bedroom makeovers, but it is important to not forget that this space's function is to be a place to rest and recharge. And, that means, you don't have to do much to create a beautiful area to retreat to. 
If you are looking to design your small master bedroom, Badcock Furniture & More, has showrooms across convenient locations in South Florida with a wide selection of bedroom furniture, including queen, king, full, and twin-sized beds, in addition to nightstands, dressers, lighting, wall art, entertainment, etc.  
Today, designing smaller spaces is all the rage, and modern design now has expanded its possibilities of accommodating small spaces. If your downsized master bedroom is calling for a makeover, but you don't think you have enough space to work with, you have come to the right place. 
Choosing the Right Furniture and Design for the Master Bedroom
Sprucing up your master bedroom regardless of its size with new furniture and decor can be an invigorating change. Picking the right furniture can have its challenges, and fear creeps in when most people think about the price tag. 
Luckily, at Badcock Furniture we believe in high-quality furniture at affordable prices, accommodating everyone's unique taste. Consider these factors when choosing furniture for the master bedroom: 
Size: Consider How Big the Room Is
Size is one of the major factors, if not the most important factor to consider when designing your master bedroom. The ratio is crucial to measure for a well-decorated and proportionate room. It is important that the furniture should be in balance with the size of the master bedroom, whether big or small. 
Personality: Think Who the Room is For 
Since we are talking about a master bedroom, it is important to still consider the personality and style of who will be occupying the room. The theme, color, scheme, and furniture choices will all reflect the person whose bedroom it is and are the key components for establishing an overall decorating style and aesthetic.  
Determine Your Decorating Style
There are various decorating styles, contemporary, modern, and transitional. Choosing one of these themes can help properly outfit your master bedroom to match the style of the rest of your home. Consistency and unity are key. 
Modern
The modern style is very minimalist and clean. Most people who love modern design love a monochromatic look, all white. Then, with the furniture and artwork pops of color are added to make the space pop. 
Contemporary 
If you like the contemporary style for your master bedroom, this type of design can change with the times. Even though this style is very versatile, the elements that remain consistent include: modern, sleek, and neat. 
Transitional
The transitional style is the more classic look that people try to achieve. When you don't want to put your design into just one category, use the transitional style principles that are between traditional and modern. This is a very popular choice, especially for smaller spaces, as it makes it look larger.  
Expert Tips for Smaller Master Bedrooms 
We are willing to bet that like us, some of the most time spent in your home is in the master bedroom, where all the magic happens. It can be hard to decorate and design a bedroom that checks all of your boxes. 
However, some of our favorite master bedrooms are those that are small in size but are decorated in a large way. A calm, organized oasis that allows you to get good sleep without sacrificing your personal style and aesthetic. Since your master bedroom is one of the main parts of the house, you should want to make sure it looks the part. 
Instead of worrying about just the scale of the room, leave it to us, the experts in furniture and design to help you make a "BIG" statement in a "SMALL" space. 
For a master bedroom that matches your style from our showroom into your own home, Badcock has it all!
Here are savvy small bedroom design and decorating ideas to help you create a space that may be small in square footage, but big in terms of smart style and design. 
Tip 1: Tall Headboards, Slim Bed Frame 
If your master bedroom isn't big enough for a footboard, or if it is, we suggest that you replace that style bed with a simple yet tall headboard. This will add a few inches of extra space, which will make your small master bedroom look larger and more luxurious. 
Remember to choose a slim bedframe and tall headboard. Badcock has a variety of bed types with beautiful headboards to choose from depending on your style. 
Tip 2: Paint Bedroom White 
A plain white bedroom can be boring for some people, but we along with other design experts believe that the color white is a very smart and practical choice for smaller bedroom decor. Your space won't look so busy or closed in, and in fact, make it look larger. 
Using a color such as white will also brighten up a bedroom space, especially if there is a lack of windows bringing in rays of natural light. However, are you afraid that an all-white look will be too stark? To keep your small master bedroom from having a lack of color or personality, use different textures and patterns for more of an interesting look. 
Tip 3: Place Your Bed in the Center or Corner
To maximize floor space and make your master bedroom appear bigger, an idea is to place your bed in the center of the room or in a corner. 
Tip 4: Be Minimalist 
To make your smaller master bedroom appear not too small, it is important to follow the design principles of a minimalist. As the focus of the space is the bed, pair it with pieces of furniture and accessories that are your favorites and to a minimum, to avoid over-cluttering. 
Tip 5: Storage and Shelves 
Adding some bookshelves or nightstands for extra storage is a good way to maximize space and make the bedroom look creative and edgy!
Tip 6: Colorful Accent Pillows
As we said painting your master bedroom white was the best choice for making the room appear bigger, you still don't have to skimp on color. For those who are very into pattern and color, you can compromise, and use this opportunity by choosing blankets, colorful comforters, and quilts, or accent throw pillows of vibrant color. 
Is the problem that you can't choose a specific color scheme? That is the great part about pillows and blankets. You can get a variety of colors to mix and match, but don't get too carried away!
Tip 7: Add A Mirror 
Did you know that a mirror can make a small bedroom appear larger? Create the illusion of a bigger space by positioning a body-length mirror against the wall. The natural light from the window will reflect and light up the entire space as well. 
Tip 8: Area Rugs and Plants
People often focus on the main parts of the bedroom, such as the bed, walls, and shelving.  However, you can't forget the floor or adding small accessories throughout the room. Area rugs or small artificial florals or plants can add a unique touch! Also, adding houseplants to your room makes it feel more alive. To maximize space, try shelves or wall planters. They can turn your plants from drab into works of art.
Shop Online or In-Store 
There is no reason why having a small master bedroom should stop you from designing the room of your dreams! Even the smallest of spaces can be every bit as gorgeous, relaxing, full of taste and personality, sometimes even more so than those very large and often gaudy master bedrooms. 
These inspiring small bedroom ideas prove that small spaces can be stylish too! For more master bedroom inspiration, shop our catalog online or come on in to one of our South Florida showrooms! 
Comments (0)