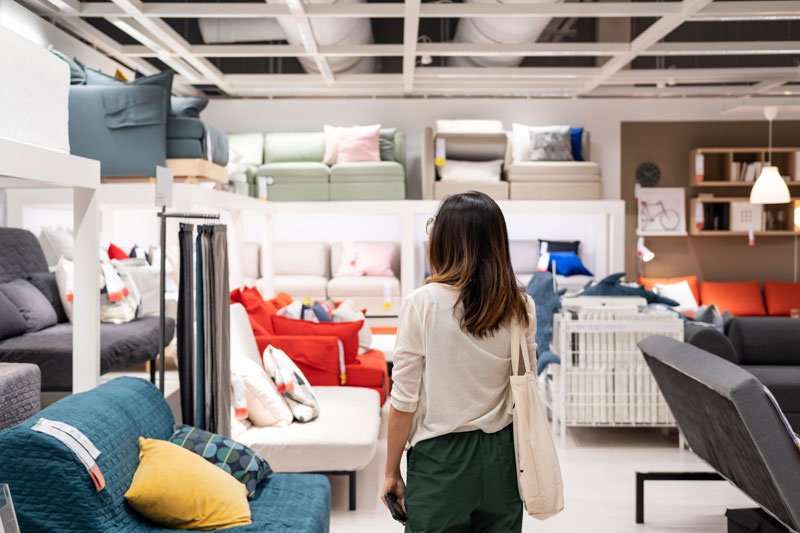 Sounds like a simple task doesn't it? Just go to the furniture store and buy something comfy that matches your décor. Easy peasy. Not so fast. From lumpy cushions to the wrong size for the room, there are plenty of chances to blow it when buying furniture. So before you head out to the store or shop online, let's discuss some common mistakes you might make before you make them.
6 Common Furniture Buying Mistakes
Mistake #1—Not Thinking Ahead
When you're looking for furniture for where you live today, you need to consider how your life and living space may change in the next several years. Think about the future when shopping for long-term pieces like the dining room and bedroom furniture. And be careful of committing to a trend. Shop with the present and future in mind.
Mistake #2—Buying Seating on the Internet
The furniture looks beautiful in the pictures. Reviewers say it's comfortable. But there is a good chance that the construction is not described in detail. So if you want to buy a sofa that will last as well as look good, it's important to know how it's made. 
Many furniture stores attract customer traffic by putting the lower-priced items upfront. But the lowest price is not usually the best choice. That lower price tag typically means lower-quality fabric, frame, or filling. Sometimes it has a decent frame but a cheap cotton upholstery fabric that is going to need to be recovered soon.
What to look for
Natural materials that are naturally durable such as wool or leather do come at a higher price. Instead of cotton, choose a cotton/linen blend with a durable synthetic like nylon or polyester in it. This will be more durable but keep the price more reasonable.
If a sofa is American made, look for kiln-dried hardwood that has been properly joined for the frame. For a more modern or platform look, metal frames a generally suitable. Ask about the fiber content and durability of the fabric. Once again, ask about the fill of the cushions. They might feel good on the showroom floor, but not so much after two years of daily use in the family room.
Mistake #3—"Great Deal" Case Pieces
Case pieces are the furniture items that aren't upholstered. That being said, it's easy to find low-price lamp tables and bedroom pieces on the internet. They're fine if all you want to do is look at it. But it probably won't have a lot of stability or durability. 
What to look for
If you plan to use a chest or cabinet daily, be sure the glides under the drawers are made of metal (grooved wood in the case of antiques) not plastic. Dovetail joints in the corners are better than joints that are nailed and glued. 
Mistake #4—Slipcover Slip-Up
The word is out that slipcovers are back. But be careful. Check the fabric of the slipcover. If it's 100% cotton you may end up with an unhappy surprise after the first washing.  
What to look for
Once again, ask questions about the fabric's fiber content and its durability. Look for washable blends with durable synthetic fiber content.
Mistake #5—Being a Victim of Trends
Discover your style by gathering pictures that speak to you into a collage or an idea board. That's your aesthetic. Figure that out before you go jumping into any trends. Find your style first, then add the trendy accessories. This is important when you are purchasing investment pieces. They need to last and blend with your aesthetic for years to come.
Mistake #6—Not Getting Professional Advice
Whether you hire an independent interior designer or ask someone from the on-staff design team, it's a good idea to talk to the experts before you make any furniture decisions. The experts will ask you questions that will help you see the big picture without getting tied up in small details. Professional staff will help you target your lifestyle and point you toward the pieces with the kind of durability you need and the look that you want. 
Another benefit of working with a designer is that the research for you. When it comes to knowing about the construction, they take on the boring details that might bog you down and become confusing. By doing this, you can focus on getting the most for your money by buying pieces that will last, and that fit your style preferences.
A Few Do's and Don'ts of Furniture Shopping
Take time to shop online and in stores. This will help you learn the options and average costs before you decide on something you see on the showroom floor. Rely on reputable reviews to help you determine the quality of the stores and especially if you are considering shopping online. If your favorite chair has mostly negative reviews, it's a good idea not to purchase.
Think about your lifestyle before you choose furniture. If you like dinner parties, you may need a table with extra seating or an extension. If you have children and pets, you'll want upholstery that is easy to clean and will hide wear. If a chair or sofa starts to feel uncomfortable after just a tryout, it won't be better when you sit in it for a long time.
Furniture in a showroom looks good because it is staged that way. You need to imagine what it will look like in your room. And you need to test every piece you like. Sit in the chairs and sofas for a few minutes, check the sturdiness of the TV stand, and open and close drawers. Take some pictures and bring fabric swatches home with you so you can get an idea of how it will look in your home. Don't listen to any voices telling you to hurry up.
Before you go to the stores, measure your space and the dimensions of the furniture you already have, whether it's staying in the room or not. You may not be planning to buy another piece the same size as what you have now, but it gives a basis for comparison.
Before you decide on an item, go home and map out possible new furniture arrangements. A good way to do this is to put painter's tape on the floor to show the dimensions of the new piece you're considering. Also, don't forget to measure doorways and passageways you'll need to move the new furniture through.
Decide on a budget before you shop and then actually stick to it. If you can, put money aside for the purchase so you can pay cash for it and not be tempted to spend more than you planned. Many stores will want you to open a credit card but don't feel pressured. 
When you get tired of shopping for bedroom or living room furniture, it can be tempting to just buy the whole set and get it over with. But if you don't love every piece and know exactly how it will work for you, don't give in to the temptation. Your home should show your personality and be customized to your life. A matching set doesn't do either of those things. You can buy more pieces from the same store at different times or buy from several stores.  Once again, do take your time.
Common Furniture Layout Mistakes
Now you have the do's and don'ts of buying your furniture, so let's take a quick look at how you might like to arrange it. Even harder than buying your furniture, is deciding how to arrange the room. It's tempting just to place it against the walls or arrange it the way your parents did, but little changes in placement can make a big difference in the way a room feels. Here are 4 common mistakes you might have in your home now, and how to fix them.
Eyeline Movement
Keeping the view across a room and out the windows clear heightens the feeling of space. So think low in the center of the space and high around the boundary. That's why coffee tables and low chairs look good in the center of a room, but bookshelves and high-backed chairs need to be at the edges.
Frustrating Flow
The most common furniture layout mistake is poor flow. All of the commonly used pathways within the space (to closets, other rooms, outside doors, etc.) should be clear to comfortably pass through. Occasionally, you can improve this by simply switching out an item. Curvier, smaller pieces are easier to get around than bulky square pieces.
A good rule is to keep 3 feet of space open for flow.
Wallflower Syndrome
"Wallflower syndrome" affects living rooms everywhere. If your room is a difficult size and arranging everything against the walls looks like a dance party about to start, you may have it. But even though you don't think there's quite enough room to pull everything into the center, it can be done.
You only need a foot of space between the furniture and the walls to enjoy the benefits of floating your furniture. You don't need the full 3 feet of path mentioned previously. Try pulling the sofa away from the wall for a week. If the empty wall behind you bothers you, put up a large piece of artwork to take up that newly opened up space.
Too Much Seating
Like most people, you probably can't remember the last time you needed all those occasional chairs. Try removing one chair and see what happens. It should improve the flow of the room and give a greater sense of spaciousness. Try double-duty pieces for extra seating like an ottoman with a tray on top or a coffee table with a cushion that can be used to sit on.
Let's Go Shopping
Okay, now you are ready. You have checked out the stores, done your measuring, and decided how to layout your space. We have professionals at Badcock Furniture of South Florida looking forward to helping you create your home according to your tastes and lifestyle. We have stores from West Palm Beach to the Florida Keys. 
You can shop online before you ever come in and even apply for credit. Contact us here. Find a store near you and even check out the electronics and appliances.
References:
Comments (1)