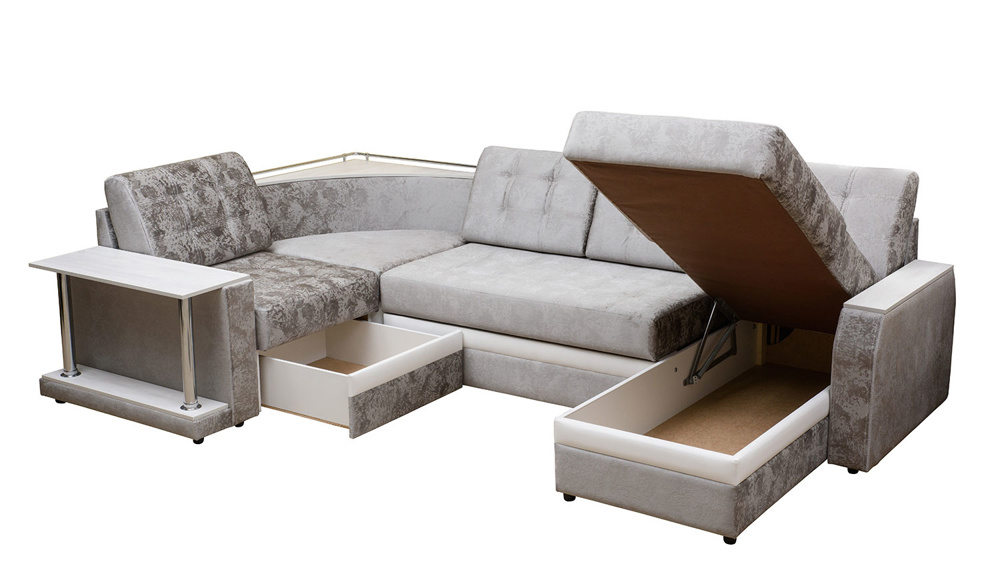 In the last year, organizing guru Marie Kondo has taught us all the beauty of decluttering and minimalism. Today's trends are all about maximizing the space you have and getting rid of anything you don't need. Picking out multifunctional pieces of furniture — that is, furniture that can serve multiple purposes — doesn't have to be difficult. Badcock Furniture of South Florida has plenty of multifunctional furniture that will maximize your space without minimizing your wallet. 
Multifunctional Furniture with Storage
We could always use more storage. When you live in a small space, it can be hard to find enough room to store your items comfortably. Badcock has plenty of multifunctional furniture that offers hidden nooks to store personal belongings that won't compromise your relaxed environment.
Storage Beds: The Best of Both Worlds 
Have storage in a convenient location that's easy to access. Badcock has beds of multiple styles and colors that can fit any room and decor — and your items, too.
This gives a bold, eclectic finish to any bedroom, and it includes two generously large drawers at the base. The retro gold accents on the backboard are the same as the handles of each drawer, adding a level of sophistication to this beautiful chestnut brown bed frame.
This bedframe truly offers three different types of storage space. In addition to two drawers with ample room at the base, the headboard features two smaller drawers in between four shelves for smaller belongings. The shelves are perfect for storing books or tiny trinkets that you treasure. With an elegant grey finish that can match any type of decor, this multifunctional furniture piece will complete any bedroom. The Trifecta also comes in white.
Dark brown wood finish and gold accented trim make for a stunning, contemporary bedroom piece. Add some two-drawer storage in the footboard, and you're golden. 
Bunk beds are the perfect addition to a room with two children, but it can also make you compromise your space. You won't have to worry about that with this solid pine, multifunctional furniture piece that has storage all around it. Two drawers in the footboard will provide you with more than enough room for your kids' toys and clothes. A four-drawer chest can be found in the staircase leading to the top mattress, and the bottom bunk comes in a full-size option, which is optimal for older siblings.
Dining Tables with Something Extra
Contrary to popular belief, dining room tables don't need to be strictly a place for eating. They can also be multifunctional furniture and store some of your necessary kitchen items. 
Lazy Susans have long been a feature of dining tables, and Badcock Furniture of South Florida has a beautiful espresso-finished piece with a discreet Lazy Susan in the middle. There is also a convenient storage shelf at the bottom. This table is perfect for hosting parties or family dinners in a small space.
With a large drawer at the bottom and space on top of it to put kitchen items, you can't go wrong with this casual rustic dining table. At just under 4 feet, it will take up minimal space in your dining room or kitchen.
Multifunctional Furniture: Space-Savers
Let's face it: Rent is expensive, and most cheap apartments and houses that young people can afford are small spaces. Space-saving multifunctional furniture can be a lifesaver, and Badcock has plenty of it.
Save Space in Your Room with a Daybed and Trundle
Having a guest over for the weekend will be much easier with this casual yet modern daybed that doubles as a couch. On the surface, grey fabric covering a comfortable padded headboard. Underneath, a trundle bed that you can pull out easily. This multifunctional furniture piece will be a perfect fit for any room in your home.
An Ottoman Where You Can Rest Your Feet...and Your Drinks
You can rest more than your just feet on this ottoman. Its versatile polyurethane cover allows for both a footrest and a cocktail or coffee table that can hold trays. This multifunctional table and ottoman is easy to move around and to top it off, there is a shelf on the bottom with a medium wood finish for extra storage. 
A Couch That's Also a Bed
Futons are classic multifunctional furniture pieces that can give you an extra mattress without taking up more space in your living room or office. This black pillow top sofa bed adds a retro vibe and another layer of comfort, both when used upright as a couch and when it folds down as a bed.
Tech-Savvy Furniture
Technology is everywhere in the 21st century. It's about time some multifunctional furniture became tech-friendly, and Badcock has you covered.
Why waste space with yet another phone charger plugged into your wall outlet? This simple but multifunctional accent table with cherry brown finish has an open shelf and drawer for small items, but that's not all. You'll find USB ports in the back where you can plug in your phone, iPad, Kindle, or anything else that needs charging.
Multifunctional Furniture Design Tips: Saving Space in Your Home
You can save space at home without sacrificing good design with Badcock's wall accents.
Add a Funky Mirror to Your Wall
Mirrors will make any space in your house look larger, and it can be a multifunctional furniture piece as a work of art. This eclectic blue flower frame will add a fun, retro feel to some bare walls.
Find Plenty of Multifunctional Furniture at Badcock Furniture of South Florida
Badcock Furniture of South Florida has all your furniture needs for any type of living space. Visit our South Florida website and find the perfect multifunctional furniture piece for your home.
Reference:
https://blog.ashleyfurniture.com/multifunctional-furniture-options/