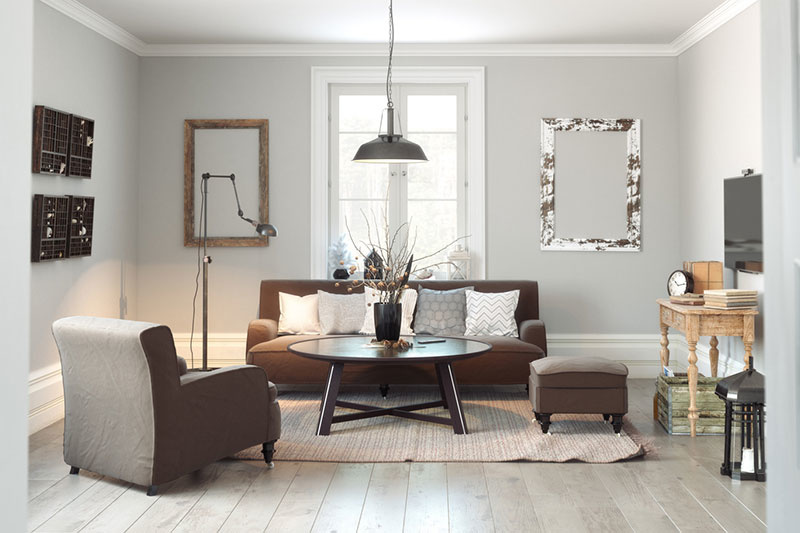 Defining a specific style for your living space will test your interior design capability but don't let the challenge frighten you.
With so many interior design styles available for personal choice, it's only fair there be more than one style accent chair to choose from. 
Different accent chair styles can be just as a controversial topic of discussion as any. Some might say there's only one thing an interior design fanatic gets from finding the perfect styled accent chair, and that is a sigh of relief. 
When designing your home, the accent chair you choose should complement your living space. However, with so many options to choose from, it may be hard to narrow down a specific style. 
In interior design, an accent chair is meant to be a statement piece for your living space. An eye-catching decoration of sorts that provides extra seating for company or furry friends. An accent chair is an important piece to the interior designer as it can complete a room and create depth. As the name might imply, an accent chair accentuates the furniture pieces and decor around it.
With so many possibilities available for decor and furnishings, it can be an overwhelming process for the new homeowner. 
Types of Living Room Accent Chairs
There are many styles and types of accent chairs to choose from. The idea of choosing the right chair and style can seem daunting to some; the best armchair suited to your space could be anything from a slipper chair to a swivel chair. 
For those who aren't sure about the differences and unique quality of each accent chair, follow the comprehensive guide below.
The slipper accent chair is generally armless and features a lower bottom seat with a tall back. The seat of a slipper armchair may not be what one is used to. Since the seat is positioned low to the ground, taller individuals will have to cross their legs to sit more comfortably.
The chair is created to be petite and fit in small places such as a bedroom corner. You will find these types of accent chairs in pairs and placed as extra seating options next to a coffee table or opposite a couch.  
The name for this armchair originates from the Victorian-era need among women for an effortless attempt at slipping shoes on and off, hence the name "slipper".
The Wingback Accent Chair
A wingback accent chair style is recognized for its high back and "wings" that create a shelter around the occupant; some might describe the feeling of sitting in this armchair as if they are in a cocoon. By creating a sense of being a cocoon, the occupant may feel more safe and comfortable in this type of accent chair. 
The winged sides on this style of accent chair were historically used to block the cold drafts during the winter months. The sides also benefit as a shield if you were to sit in front of a roaring fireplace. 
Traditionally large in style, these armchairs have downscaled in recent years, but still manage to feature that distinctive shadow among the floors in your home. Wingback armchairs are heavy pieces of furniture, and a homeowner is unlikely to move them unless they're changing around their living space.
Typical living spaces that include wingback armchairs are reading nooks, dining rooms, living/family rooms, and living spaces with a fireplace. Wingback armchairs placed next to a large sofa offer a complete sense of balance in living spaces. These armchairs are also used at the head and foot of a dining room table as the chairs do not move much. 
This type of accent chair is used in spaces that cling to the idea of flexibility; these types of spaces often include nurseries and offices. Although, this armchair is widely used in living rooms and small spaces as it is very versatile. 
This accent chair was designed on a swivel base and could be created as a desk chair for the office or an upholstered armchair for the living room. 
A swivel chair provides great viewing options for a TV room. It also allows one to converse more easily and create a flexible room arrangement. The swivel chair is known for its versatility as it comes in many designs. However, it's widely known for the ability it has to change the direction of a room.  
The club armchair features a deep seat tailored in fabric or leather. Sometimes the chair, among other types of accent chairs, will feature a pattern of jewels known as nailhead trim.
This type of accent chair is frequently used in a living room. Many club chair owners have found that it makes a good napping chair, whether it be for yourself or a furry individual. 
While the chair is frequently placed in living rooms, it's also used in pairs among living spaces to create a cozy reading nook. Others have found that it generates a solid flow for their living space by placing it next to a sofa. 
This style accent chair got its name from France under the term "fauteuil confortable" which translates to "comfy chair". Deeply connected to gentlemen's clubs, a club chair is still known to be an upholstered, roomy armchair with extra-deep seats.
The Barrel Accent Chair
Barrel Back accent chairs feature a fully curved back and low profile that creates a sophisticated, sleek look. Some might refer to this type of accent chair as a "tub chair" because of the single semi-circular piece at the back. 
These chairs are truly multipurpose and provide an option for almost any decor. These types of accent chairs can be used in any interior design setting from traditional or minimalist to boho-chic.
For those homeowners that are looking to create a style with clean lines rather than comfort, this may be an armchair to consider. 
The Occasional Accent Chair
The occasional seat or armchair is beneficial to those that enjoy having a seat available anywhere and everywhere. 
Made to be lightweight and easy to move, this armchair is perfect when needed on occasion, hence the name. Mostly created with an eye-catching or shapely design, these accent chairs are meant to be an additional seating option, not the main choice.
The occasional armchair provides a homeowner the ability to give seating options anywhere, whether it be an extra dining chair or lounge chair.
The Bergère Accent Chair
Known for its regal lines, the Bergére chair features a loose seat cushion that exposes a classic wooden frame. 
This type of accent chair first gained its popularity in 17th century France as part of palace life. However, these armchairs are still popular today as a number of them are used in the White House. 
The history of the Bergére armchair might make a homeowner feel more elegant. Nonetheless, this armchair is very desirable among households as it's able to fit in with just about any setting. 
To design a space with a Bergére accent chair, interior designers suggest using them in pairs, placed opposite a sofa, or tucked into a corner with a matching ottoman. 
Ideas & How To's on Styling Your Living Room Accent Chairs 
There are many ways to style a living space alongside an accent chair, many interior designers use:
Pillows, either plain or patterned 

Throw blankets that add texture to a sofa or accent chair

Vases, leave empty or fill with flowers
Should you choose a patterned fabric, plain, or one with a nailhead trim it should complement the flow of the living space and your design preference. Choosing a specific statement piece can define the flow of a room, add color to a monotonous living space, or complement a decor item.  
In most living spaces, an interior designer would recommend there be two accent chairs; in total there should be between four and five seating arrangements available for guests at any given moment. Too many accent chairs might overwhelm a space but too few wouldn't provide enough seats; two accent chairs and one couch is recommended as the perfect arrangement.
If you cannot figure the number of seating arrangements needed for your living space, interior designers suggest comparing it to the number of seats in your dining room. 
The accent chairs in your living space don't have to be identical, but they should flow with the hues and styles already present. 
Interior designers reveal key tips on picking the correct type of accent chair:
Don't ignore all patterns, just the ones that clash with your choice of style.

Mix match styles, don't be afraid.

Velvet and leather upholstery are classified as warmer hues.

Plastics and metals on furniture and decor are classified as colder hues.

To make a colder decor item— such as an accent chair— feel warmer use a throw blanket. 

The perfect amount of space from your coffee table to your accent chair is 18 inches. Anything less is too close and constricting. 

Have measurements of decor items and furniture ready when purchasing; many items will look at a different size online.
To choose the best-suited armchair for you, find what best suits the living space in your home and design from there.
Badcock Furniture Accent Chair Styles
At Badcock, we sell many of these accent chair styles. Some of the popular styles include:
The club chair

The slipper armchair 

Sold in different patterns that each offer a unique theme.

The occasional chair 
There are many accent chair styles and the basis of one design can determine the flow of your living space. If you don't know where to start or how to choose an accent chair, consider how many seats you have in your dining room and base it from there. To choose the best style, consider where you will place the armchair and what will be next to it.
Contact us 
For further guidance in your journey on finding the right type of accent chair for your living space, contact us and we can help you in your endeavor. 
Comments (1)