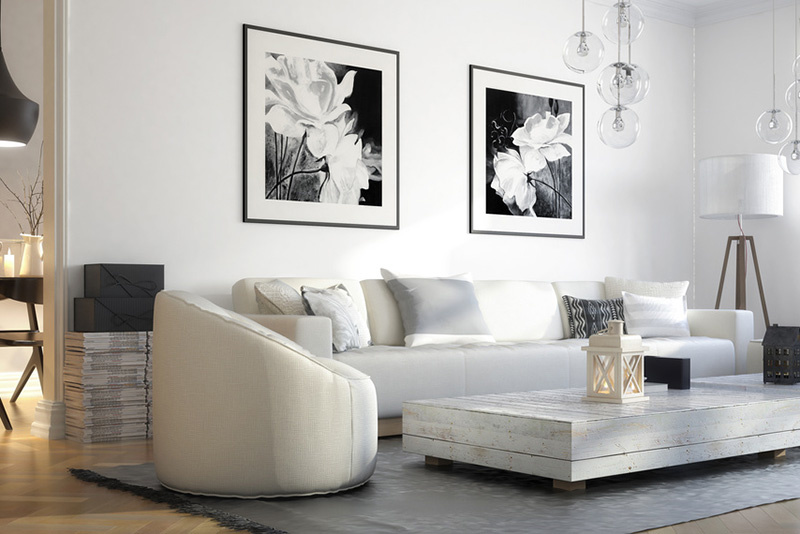 Defining an interior design concept off the top of your head may be difficult if you're not an expert. 
Even more difficult may be defining your personal preference regarding interior design. In reality, there is no definitive rule in interior design concepts, but it's important to familiarize yourself with the basics of each. 
Understanding certain design concepts can help express your personal preferences and creativity. Below we will cover five broad types of interior design concepts.
Interior Design: The Career
The job of an interior designer is to make an indoor space functional, safe, and beautiful. An interior designer does this by establishing a style, determining space requirements, and finding functional decorative items that serve a homeowner's color palette and style choice.
Designing another person's living space can be challenging. As a designer, they aim to please a homeowner by creating a certain style with decor options they may not regularly choose.
A great starting point for those that like the idea of interior design, is to design a space of your own. Become familiar with each interior design concept and understand how they differ from one another.
Most Common Interior Design Styles
A great starting point for an interior design project is to learn about each of the styles and how they differ from one another.
Starting with one of the most popular interior design concepts, transitional style is what most decorators like to refer to as the happy medium of design concepts. 
This style is perfect for the individual that finds traditional styles too suffocating and contemporary styles too refined. This type of interior design concept is the ideal mix of traditional and contemporary combined; transitional design brings an air of elegance from the traditional theme while sticking to the fine lines of contemporary styles. 
In a home with transitional interiors, accessories are kept at a minimum; this design element allows the furniture to be the basis and attention of a room. To provide some elements of contrast, an interior designer might suggest taking advantage of area rugs, throw pillows, and blankets.
A common sign of transitional interior in-home finishes like wood, steel, rattan, and lacquer. Creating a mix of masculine and feminine styles within the interior of a home is another defining factor for this design concept. Perhaps the combination of two very distinctive styles has created a refined, cohesive, and welcoming space. 
Traditional design concepts embody the feeling of the old world; drawing inspiration from 18th and 19th century England and France, this style is heavily influenced by European decor.
All about invoking richness, this interior design concept is filled with orderly lines, comfortable furniture, neutral color palettes, dark accents, and pieces with history. 
Many homes with the traditional style will include decor such as:
Tables and chairs made from dark, ornately detailed wood

Crystal chandeliers

Oil paintings

Elegant curtains

Antique accents or heirlooms

Textiles such as silk, velvet, or linen
The idea of this concept is to create a sense of coziness and balance. It's very common to find matching furniture sets within homes that feature this design concept. If you are not into the 'matchy-matchy' feeling of a home, this style may not be for you.
Contemporary
Complete with sleek lines and 1960's flair, contemporary design is known for its emphasis on open spaces. There tend to be few accessories in these homes and those accessories are usually multi-functional; minimalists aim to keep a sleek, simple space. 
Full of clean texture, this interior design concept has a neutral base accented with bold, saturated colors like burnt orange or navy blue.
This style is always evolving and will most likely alter during the 21st century. Even though this concept is from the 1960's it featured an open layout, something ahead of its time. It also included detailed moldings on the walls and windows such as the crown moldings we have now. 
Contemporary furniture styles are intentionally created with exposed legs and clean, straight lines for a light and airy feel. It is common to see artwork that contains metal or glass in contemporary homes as they reflect light best.
Contemporary living spaces have a clean feel to them, almost as if they are an empty slate.
Although this design concept is influenced by the past, it has been very modernized. Contemporary living spaces manage to borrow from various periods and create an ageless area. Even more so, this style manages to collaborate with a mix of many home decor styles. 
Modern furniture styles are one of the newer interior design concepts to appear in home remodeling. With crisp, clean-cut lines, this style was inspired by art deco the combination of art and functional design. 
To create a modern oasis in your home, interior designers suggest a simple color scheme. Color schemes can be monochromatic or plain with many art pieces as the bold pop of color. Like other design concepts, this style is all about minimalism which means there are not many decors used and negative space is a necessity. Modern furniture styles are created with clean lines and smooth, sleek surfaces. To keep with a sleek atmosphere, you can use accent materials such as metal, glass, steel, or chrome.
Modern furniture styles are found in abundance in cities. This design concept rose to popularity in the mid-20th century.
Minimalist
Similar to contemporary design, this interior design concept revolves around space. Since it is inspired by Japanese culture, many individuals try to stick with the "less is more" concept. 
These types of interiors are designed with neutral color palettes and functional furniture sets. For example, one might find an ottoman or coffee table that doubles as a storage bin. This is beneficial to the minimalist as it becomes a multifunctional piece for your home.
Furthermore, you will not find patterns in a minimalist setting; they are filled with texture and very minimal accent colors. 
Related to this interior design concept, you will find many unique pieces that boast clean lines and simple finishes.
Badcock Furniture Styles
Badcock furniture is a chain corporation made up of over 370 individual retail companies and dealers. With such a big selection, we offer furniture that can fit many of the unique styles a homeowner is looking for. 
To find a specific style at Badcock, narrow down the type of pieces and decor you are looking to use in your home. After figuring out the style that best works for you, use the filter option, and then select which style to browse. 
We offer many options on our website from living room sets to rugs, decor, and appliances; at Badcock, there is home decor to accompany each interior design concept.
There are many styles in the interior design world, but at Badcock, there are three main styles that we offer:
Accent chairs - modern, traditional, and transitional 

Accent furniture - modern, traditional, transitional, glam, kids, and casual 

Lighting - modern

Rugs - transitional 

Wall art - modern, traditional, transitional, glam, and casual

Living room sets - modern, traditional, and transitional 
Contact Us
For help in discovering the many options offered throughout your interior design journey, contact us and we'll point you in the direction of your style.