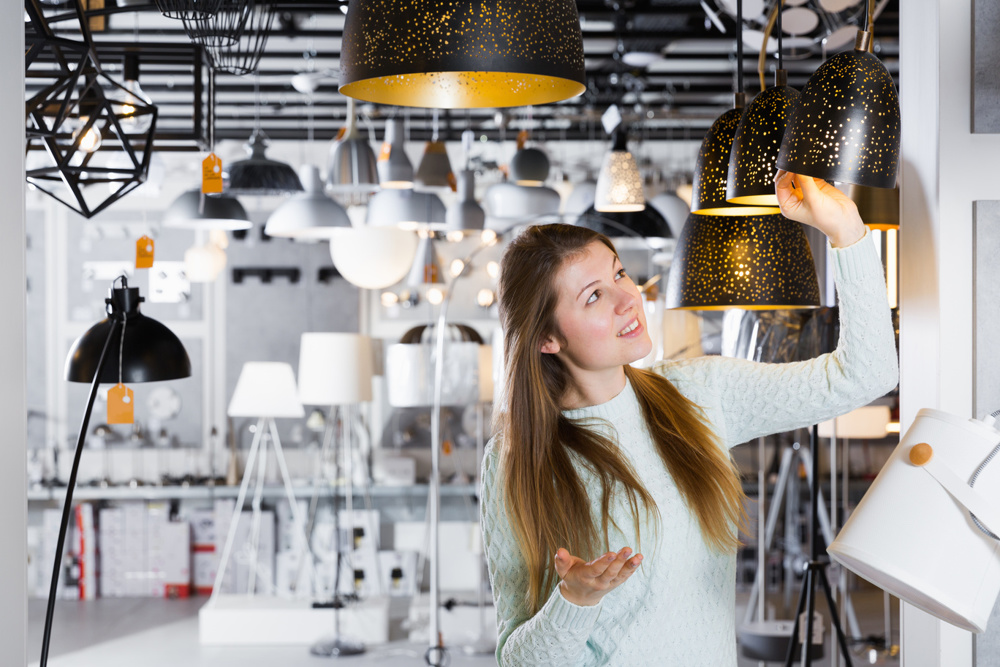 Choosing the right lighting fixtures for your home may seem like a daunting task. But adequately lighting your home can offer more than just functionality. The right lighting fixtures can create a more comfortable environment; it can promote concentration or relaxation and even affect your mood. 
With some intention behind lighting, you may plan for many different lighting options in your home. You may be wondering the best method for this. First off, let's learn about some different fixtures and techniques. 
The Three Main Types of Lighting
Ambient, or General Lighting

Accent Lighting

Task Lighting 
Ambient Lighting
Ambient lighting is sometimes referred to as general lighting. Since it is typically the primary source of light in each room, your lighting plan should start with ambient lighting and how you want it to function within a particular space. 
Aside from the function it provides, ambient lighting will set the tone of a room. It can give a sense of warmth, making a room appear larger or more spacious. Now the strategic part starts with deciding what type of lights best suit you and the room you put them in. 
Standard lighting fixtures used for ambient lighting include recessed lights, track lights, ceiling-mounted lights, and chandeliers. With proper use, all of these fixtures play a role in achieving ideal lighting for you and your home. 
Accent Lighting 
Accent lighting should work in conjunction with your ambient lighting. It complements the depth and warmth created by the ambient lighting while adding dimension. Accent lighting is also commonly used to highlight a room's features, such as wall-mounted art, a plant, or similar features. 
The purpose of accent lighting is to increase the focus drawn to the feature. It should also be done in a manner that does not draw attention to the light itself. Accent lighting is often viewed as the decorative lighting in a room. It can range from a straightforward form of lighting to elegant and luxurious, depending on your taste and what you're highlighting. Common accent lights include lamps, sconces, and chandeliers. 
Task Lighting
Task lighting intends to provide localized light for certain activities. Instead of using these lights to light up a whole room, they give concentrated light for reading a book or doing your makeup. A task light such as a lamp on a nightstand may also provide great mood lighting in a bedroom. 
When choosing proper task lighting, think about the space you will use it in. Also, keep in mind that this lighting's function is to reduce glare while appearing bright enough, so you aren't straining your eyes. You can find a good task light in a variety of shapes and sizes. They can range from a simple lamp on a desk to a swiveling light mounted on a wall. 
Lighting For Each Room
Each room should have particular lighting that expresses the character of you and your space. Let's go through each room:
Foyer
The foyer is an entryway that almost every home has. It is the first thing guests see once entering your home and needs appropriate lighting. Think cordial and inviting, most foyers have a casual chandelier to provide overhead lighting in the middle of the room. If your entryway does not have high ceilings, a floor lamp combined with sconces will provide a friendly atmosphere for visiting guests.
Living Room
The living room is where families spend most of their time together. This room should have the ability to be lit up well and also have mood lighting options available. Floor lamps work great in these spaces as a task light or mood lighting. Another helpful tip is to have your ambient lighting set to a dimmer switch. If your living room has any interesting features or textures, consider highlighting them with accent lights.
Dining Room
A chandelier is a great option for the dining room. You want there to be adequate light to eat dinner and talk, but you don't want the light to be blinding. Place the chandelier directly over the center of the dining room table and note the distance it will hang down when in the store shopping for one.
Kitchen
Arguably the most difficult to light, the kitchen will require more than one lighting scheme. You may want a task-oriented light near the sink and a bright light over the island. Most of the time, you won't use all of the kitchen lights at once, but you will quickly notice if you don't have proper light in certain areas. If you have an open bar area, pendant style lights are very appealing and functional.
Bedroom
Warm lighting fits best in the bedroom. Task lighting is essential, so you can read in bed or have a lamp nearby while relaxing. An overhead light will come in handy, though, when cleaning or whenever bright light is necessary.
Bathroom
Bright light is necessary for the bathroom. LED lights work well near mirrors and throughout. In addition to the ambient lighting, sconces are another functional option that adds style and character.
The Purpose and Power of Interior Lighting
Since lighting can affect a space's mood, it is the most crucial part of interior design. Choosing lighting fixtures that compliment your space can even alter the mood of people in the room. 
Lighting has come a long way in recent years, especially regarding LED. LED technology is used in many lighting fixtures and has several benefits. For example, you can use an LED skylight that mimics natural light, offering a more airy and open setting. 
Another positive of LED lighting is that it doesn't produce heat. No need to worry about damaging an expensive piece of art from long term heat exposure or sweating while trying to stay cool in your workspace. 
Lighting is part of your everyday life and can make your space feel homey and comfortable. If you need more help selecting lighting for your home, give us a call or stop by your local Backcock Furniture.