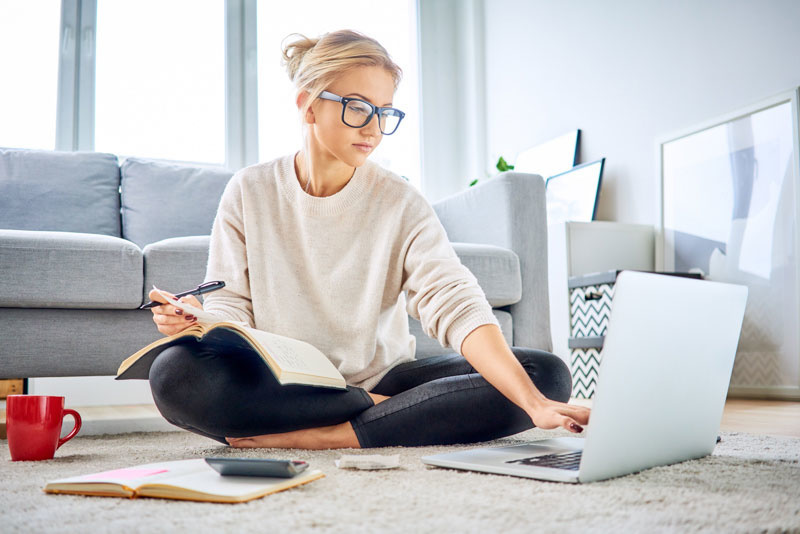 Buying Furniture on a
Budget
Congratulations, you have a new place to live or you're redecorating. But you have no furniture, or you want to replace your furnishings, and now your budget is limited. Relax, you don't have to buy everything all at once. And it also doesn't mean you have to give up on quality to stick to the budget. 
Whether you're looking at an upgrade here and there or planning to furnish a new home or apartment, buying new furniture can be an intimidating task. There are so many shopping options, it can be easy to get pulled into a spending pit. But you don't have to. There are ways to save money and furnish your home the way you envisioned.
Better Quality vs Budget Friendly
In fact, emphasizing budget-friendly pieces might lead you to buy better quality furniture. When sticking to a budget, you may be more careful about the items you buy and how much you use you'll be able to get out of them. Thinking about the price, and then divide by the number of years you'll probably use the piece. This gives you the cost per year. This gives you a whole new way to look at your purchases.
10 Tips for Buying Furniture on a Budget
Decide what needs to be updated. 
In the case of replacing furniture, think about why you want to replace it. You may want to replace your sofa because you are tired of the design or pattern. But that is probably not your best investment if your kitchen table is falling apart. Start with replacing the things that are in the worst condition.
Decorate with pillows, blankets, and accessories. 
When you use accessories, you can make more noticeable updates than if you go out and buy expensive furniture pieces. By making use of new accessories, you can see what needs to be replaced and what may only need to be spruced up inexpensively. This frees up your budget for the items that really need to be replaced.
It might seem like the best option to buy a living room set when you can get several pieces of furniture for a discounted price. Think about whether you need and like all the items in the set. If you can't picture the entire set working in your space, with your plan and preferences, it is not your best buy.
Watch out for discounts and the best sales.
Furniture stores will typically advertise their sales, but these are mainly just an artificial way to increase traffic. But watching for major price reductions on the pieces you really want can save hundreds of dollars. If you have enough furniture to hold you over for a short time, consider waiting to buy until you can time it with the best sales. The holidays offer big savings, including Memorial Day and Independence Day. 
Also keep in mind that new furniture designs tend to be introduced in the spring, so experts claim February as a good time to go furniture shopping. Store owners need to clear their showrooms for new products so they will offer discounts on the old styles and they need to entice people to spend tax refunds.
Compare deals for the best price.
Don't just buy at the first store you see. To get the best deals on high-quality furniture, compare deals from several stores. This will help you find the pieces you need for the best price. The only exception is if you find an item you love in the first store and it is within your budget. Sometimes it is worth buying an item you genuinely love rather than just buying whatever you find for the lowest price.
Be smart about using cards.
Although it's never smart to frivolously spend on your credit cards, opening a store credit card can be a great idea. Using a store card and purchasing all your furniture at once can get you a big discount. As long as you pay it off immediately and not use it again, it is a budget-friendly way to buy. Plus, you may be able to combine using the store card discount with a big sale.
Think simple
If you can live with it, think about buying smaller, more neutral large items (like sofas and chairs) because they tend to cost less. Then use the accessory tricks to spice things up with accent colors.
Don't purchase without haggling
Some people don't like asking for a discount. But consider that haggling a bit could save you a lot of cash, depending on how much you're buying. Ask if there's a discount for buying multiple items. Maybe you can get a discount on the delivery fee. It never hurts to ask and the salespeople expect it.
Besides the regular sale prices, you may qualify for a special discount. Stores will sometimes offer discounts to educators and students. Always ask what additional promotions they have going on. 
Don't be afraid of floor samples
If you have your eye on a floor model, ignore the special sale price and start haggling at 50% off the price it would usually sell at, not the regular price. If you can end up at 30-to 40% off. That means you're paying a little more than the store paid for it.
However, be sure to look at the floor samples thoroughly. Make sure tables don't wobble, check those drawers open and close smoothly, and look at the quality of the finish. Check that the upholstery seams are straight and there are no holes in the fabric. Ask how long it's been on the floor and whether it's a customer return. If it's a customer return, be especially careful.
 Consider buying a replica
You can get a high-end looking item without the major expense. They may not be heirloom quality, but, depending on the use, they can last a long time. And if you decide later that it no longer works for your style, you won't feel bad about selling it or giving it away.
Always Consider Your
Lifestyle
Always, always consider your lifestyle. If you have kids or pets or both and you're choosing furniture for a high-traffic area, keep in mind the fabrics and how they'll be used. Some decorators recommend indoor/outdoor fabrics because of durability. 
Generally, if a piece is lightweight, then it is probably not going to be sturdy. If you need furniture to hold up to a lot of use, make sure it is sturdy enough. Even furniture made from wood products like medium density fiberboard is heavy if they are of good quality. Solid wood is preferable.
Natural fibers and fabrics are preferred for durability, but most do have synthetics blended in to help control the cost. However, if someone in your home has allergies, synthetic fabrics may be what you need. Ultra suede and microsuede are soft and don't collect dust like thicker fabrics. 
Where's a Good Place to Go with My Budget?
Badcock Furniture of South Florida has furnishings for every room. We can help you figure out where you want to start and what your lifestyle demands. Feel free to come in, look around, and ask questions. Our staff is friendly and ready to help. We also offer a newsletter so you can watch for our special discounts and promotions. 
Check us out online at www.badcocksfl.com. Find our closest location, shop, sign up for the newsletter, or apply for credit, all in one place. 
References: