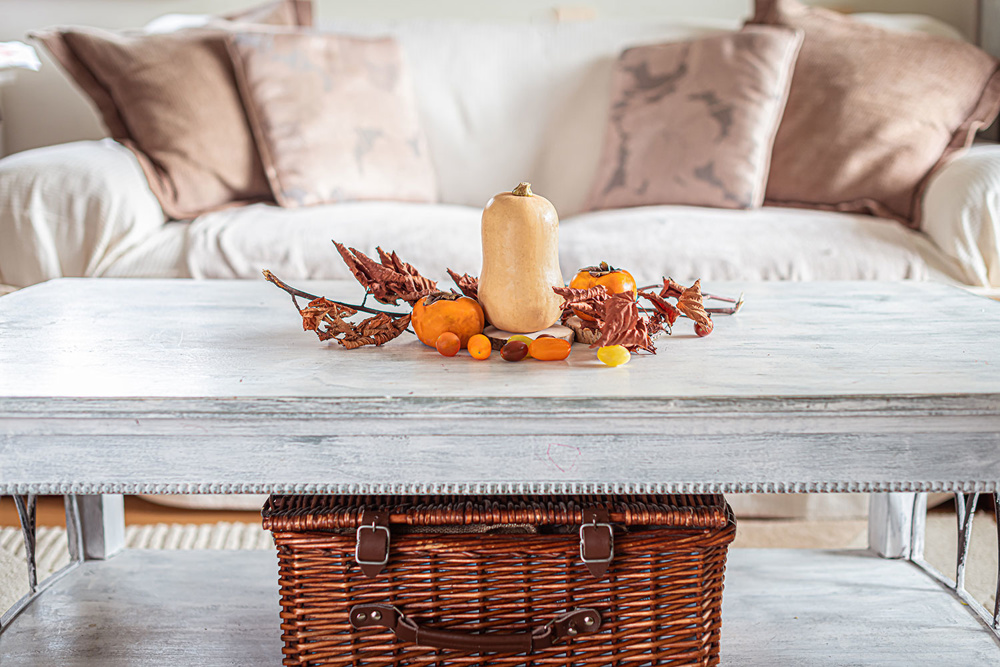 Top Fall Decor Ideas for Your Bedroom and Living Space
With the fall weather rolling around it's time to cozy up, slow down, and take in the scenery. For most of us, that means putting away the flip flops and busting out the slippers and fall room decor. What better way to commence the upcoming seasons than to add texture and a little spice, into your favorite spaces. 
Mix, Match, and Blend
Shopping around for creative ideas can get time consuming and expensive. Consider instead just a few new highlights blended into what you already own. Match some of your traditional favorites with a new season inspiring rug, to start from the ground up.
Mixing in a new floor base of fall room decor can illuminate and draw warmth into any space. To spruce up comfort and elegance, play to the deeper tones and fuzzy textures, just below your feet. Brown and burgundy will have you feeling cozy and autumn-ready, while white and tan, can individualize polished and contemporary. 
Any room that you make your own is the perfect place to relax as the days become shorter. Blending a little old with some fluffy new groundwork may be all you need to embrace the new season crawling in. Indulge in the desire to snuggle up in any corner, with a book and blanket, relishing your fall room decor. Then you can relax and enjoy the scenery within, being reminded of your home's luxury in every step. 
Playing with Nature and Contrasting Colors 
One of the hottest trends of fall room decor this year, is embracing summer's colors and bringing the warmth inside. Consider opposing tradition, utilizing bright sunny colors, instead of letting classics stand stagnant through the fall. Having grown accustomed to nature's charm, embrace the intricate colors of flowers and indoor planters to lighten the tone. 
Just because the outside is cooling off, doesn't mean you can't maintain a sense of tropical paradise, while trendsetting indoors. Play around with dark greens, bright oranges, or even deep red leaves and petals that draw the eye. For more neutral-toned rooms, that pop of organic outdoor color will have visitors gossiping about your fine eye for authenticity. 
The adventure-inspired indoor florals will show off your love of outdoor elegance, and dedication to a welcoming environment. Opt for even more tranquility by harnessing the captivation of marble or pearl planters, heightening the extra attention-grasping allure. The scene is in your hands, portraying tropical paradise, or invoking the peace and comfort, inspired by mother nature. 
Setting the Mood in Style
As the sun begins to rest, and the light becomes much softer, set the mood within to reflect contentment. Lighting and shadows can be used to your benefit, illuminating areas that can easily become forgotten. It can be as simple as incorporating a new tabletop fixture or floor lamp to achieve the desired effect. 
Embracing corners that may be lacking adequate light can change the entire atmosphere of a room. The best fall room decor can be achieved by harnessing the element of light to set the tone. Try out a conversation piece made of stone or mirror, sparking curiosity and interest were once shaded. Or even keeping it simple with a glass or metallic base, can entice a glimpse in any direction. Showcasing your most fabulous tabletop fall room decor is easy with just a bit of light diffusion.
For a unique contemporary appeal, utilize shapes or even multi-bulb lamps for added effect. Fall room decor lighting in the bedroom, living room, or even entranceway, is a tantalizing way to highlight subtle marvels. The right lighting can set up the area for a new outlook without the complete renovation of your beloved space. 
A Picture is Worth a Thousand Words
Preparing your space for the new season does not have to require a complete alteration of your fashionable interior. Instead, change the theme aesthetically, while adorning your upward and unused space. Worth a thousand words envision the impact of some exquisite wall art to infuse within your fall room decor.
Especially valuable for small spaces, metallic, mirror, or colorful wall art can be your muse, drawing the eye higher. Reflective pieces will refract light and color giving an effortless appeal to any blank area. Intricate pieces can bring together and enlighten any space that is beginning to feel drab, or deprived of excitement. Even matte collections can add color or accentuate color schemes, worthy of being pulled forward. The bigger the room, the more vast canvas is available to highlight your favorite keepsakes.  
Creativity is an endless option when it comes to this year's fall room decor. Making use of available space, especially skyward, will increase the appearance of size and appeal in any room. Ascending designs complement the negative space, inspiring connections between existing momentos, and future ambitious arrangements. Make your wall art an interim aspect to look forward to, when arranging your fall room decor each year. Or, even a transcending staple piece, to be admired year-round. 
Fall Decor for a Bedroom You'll Love
Becoming particularly fond of a color scheme doesn't mean having to forgo the enjoyment of fall room decor modifications. It is a very prominent direction opted for this year!  
Adopting a specific color or hue is a very popular fall room decor interest this season, with unlimited potential to individualize. Especially to brighten up a bedroom with an invigorating appeal, block pattern comforters and large stripes are in. Whether neutrals or intensity inspires a look, your choice of bedroom comforter palette design will designate the tone.  
Play to your love of coral, hints of red, or even easy-going yellow, for a modern flare of the convention. Rooms with limited windows or light can benefit from the uplifting colors, inviting a charming sense of optimism within. To entice a soothing atmosphere, neutral tones can offset a busy day's events, creating a gratifying venue to retire every evening. This fall, blues, and metallic grays are taking over fall room decor in the bedroom, for a fairytale design of your dreams. 
A bedroom is the domain of sanctuary, and the bed, a favorite luxury to adore. Dress it up or down with your most intimate ideas, making it your masterpiece for relaxation. Of course, comfort is key, a soothing night's sleep in a dreamy setting sets the stage for an enlightened beginning to each day. 
A Little Here and a Little There
Adding a little fall room decor can be easier than you think. A few accents here and there will do the trick, setting the perfect mood for a blissful holiday season. Working with a budget? No problem at all. A few accent pillows will make it happen.  
Despite what color or pattern is regularly incorporated, a festive pillow will make a difference from blah to ta-da! Just enough to be in the spirit, adding something to snuggle in or look at will get you in the mood. The options are endless, and luckily, interchangeable! 
As the days begin to alternate into dark more quickly, a candle and pillow that calls attention can inspire serene humor. Coming home or finishing up a long day, thinking about luxurious downtime is enhanced. Especially, when the mood is already set for you. 
A little here and there can add to your space in the sense of fall room decor. Graphic, rustic, and geometric combinations will give you the look you desire while remaining cost-effective and easy for any season. Both visually appealing and functional, guests will be yearning to uncover the inspiration behind your fall home decoration. 
The Finishing Touch
There is always that one thing that sets a room apart. When it comes to fall room decor, a classy and easy awe-inspiring trick is to add in a "wow piece." It can be anything from a tapestry to a throw. Yet to ensure your statement is not abbreviated, consider a slice of furniture that cannot be ignored. More likely, creating a room to be envied. 
Adding contrast to an already stunning landscape brings attention to your fall room decor that is irrefutable. Showing off an elegant and seasonally stunning end table or cabinet will be sure to have the neighbors talking. Studded and hammered furniture is taking first place this season, and finding affordable treasures are few and far between. Take advantage of seasonal pricing, as it will not last forever, being a select time offer, with limited availability. 
Your knack for surprising elegance, with a noteworthy piece, is sure to be a showstopper on any holiday function. Looking as though you've gone above and beyond, shows classy dedication and a keen eye for artistic grace. Once again, with a little inspiration, you'll have the "talk of the town" living space within your private paradise.  
Achieving a Look That All Others Desire
Noticing an area, full of exceptionally placed fall room decor, sets the stage for others to desire. With little effort or on a budget, transform your living space into one that others adore and admire. No matter how big or small, fashion and comfort do not have to suffer. Shop around and select your favorites, creating the perfect combination of fall room decor. Have your friends and family seeing to believe... and maybe even, dropping them a helpful hint. 
Tia Starr 
References: 
https://www.goodhousekeeping.com/home/decorating-ideas/g2716/fall-decorations/