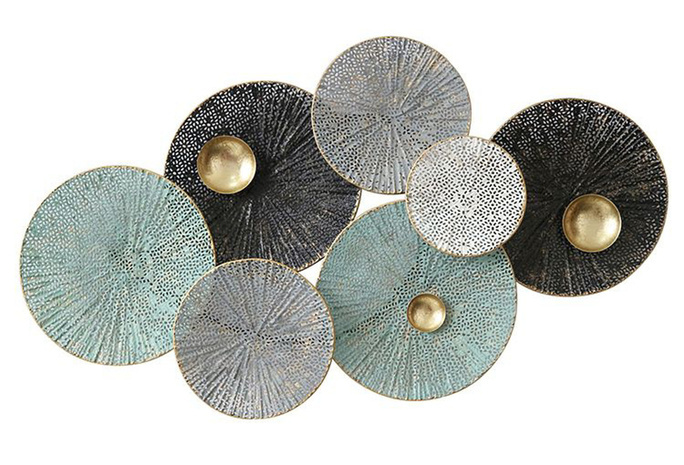 Many people forget about how important and effective Florida wall decor can be for your home. It can create an atmosphere while making your empty walls pop with style. While excellent furniture and wall coloring can be great, sometimes quality wall art can help fill in those empty spaces. 
As well as make the whole room come together with style and personality. At Badcock Furniture we offer quality Florida wall decor in all different shapes, styles, and sizes. Whatever you are looking for, we've got you covered! 
A Wide Variety of Pieces
From detailed canvas art to modern paintings to embroidered mirrors, Badcock Home Furniture & More has a broad range of wall art pieces that allow you to channel your style and are sure to bring life to your home. Take our "Charge Wall Art" piece, for example. This eclectic, alluring painting of an elephant is a unique, yet unforgettable piece to add to your home. The deep gray undertones complemented by detailed finishes truly bring this acrylic canvas painting to life.
The "Red Circles Wall Art" sculpture, on the other hand, has a more intricate allure. This piece consists of different-sized, multicolored circular metal pieces connected by several intertwining rings. The deep burgundy and ruby tones, coupled with the shine of the metal, add a simple yet sophisticated feel to this piece. 
The geometric elegance is yet another visually exciting aspect of this sculpture, making it a wonderful addition to any contemporary decor. If you have a clear idea of what kind of wall art you are looking for, or don't know where to begin, here at Badcock, finding wall art that suits your taste is easier than ever.
With our numerous wall art pieces, which vary in shape, style, and size, there are countless options to add personality to your living space. We have a broad range of wall art for sale at all of our showroom locations in South Florida in Fort Lauderdale, West Palm Beach, Delray Beach, Pompano Beach, Plantation, Hollywood, Lake Worth, Lake Park, Cutler Bay, Miami Gardens, and Florida City. There is truly no better place to shop for unique wall art — at Badcock, we have it all!
The Importance of Art Decor
While you are putting together your dream home at Badcock Furniture of South Florida, it's important to look at all the moving parts. Once you've chosen your personalized and quality furniture, it's important to finish it off with a bit of color and spice. Art not only speaks to your personality and style but it can be a great way to brighten the vibe and mood of your home. 
Sometimes a simple yet elegant piece can make a big difference in your home. Wall accents and decor can be surprisingly effective at bringing life to the rest of your home. With such a wide selection of Florida wall decor at Badcock Furniture, whatever style you have, we've got it! Whether you are into the modern, contemporary, or natural look, we have something for you. 
Affordability
Many people want to liven up their homes through wall accents and art but don't want to break the bank by buying just a few pieces. Here at Badcock, we believe in combining affordability with style, rather than sacrificing one for the other. Many of our pieces are versatile in size and are available in both small and large dimensions to suit your preferences. 
Many of our small-regular-sized pieces range from $50-$80, with our larger pieces costing $100+. Here at Badcock, each one of our pieces is uniquely beautiful and has a high-end feel, without the hefty price tag. Whether you just moved into your new apartment, or are looking to redesign your house, finding affordable online wall art at Badcock furniture is a perfect way to quickly spice up your living space without spending too much. Browse through our collection of wall art online to get a full look at pieces you love, and for prices, you'll love even more!
Brighten Up Your Home with Quality Florida Wall Decor
A great-looking home uses wall accents and decor to create an atmosphere and a memorable experience for its guests. Whether it be in the bathroom, kitchen, living room, or dining room, wall decor can make a big difference. With a wide selection of styles and sizes, our pieces can fit anywhere you desire.  Plus you don't need to spend an arm and a leg to make it happen. 
The pieces we have hanging up on our walls tell a story and speak volumes about our personalities and style. More than just conversation starters they create an atmosphere and fill in those empty gaps on the wall. Sometimes all it takes is an elegant piece like the Brede Wall Sconce to take your rooms to the next level. Whatever style you or your home have, our wide selection makes it possible to keep it consistent and looking great. Brighten your home up today with quality art decor at South Florida's best provider of furniture and other home products.
Badcock Furniture of South Florida is Here to Help!
At Badcock Home Furniture & More, our wall art & décor in South Florida in all of our locations at Fort Lauderdale, West Palm Beach, Delray Beach, Pompano Beach, Plantation, Hollywood, Lake Worth, Lake Park, Cutler Bay, Miami Gardens, and Florida City, are incredibly versatile in terms of style and personalization. From large acrylic canvases to intricate paintings to contemporary sculptures, it is easy to find wall art that suits your preferences.
By shopping for wall art at Badcock, you can rest assured that buying our wall art pieces, no matter how big or small, will not put a dent in your budget. Our affordable pieces will have your house looking like a million bucks, without matching that expense. If you have been looking for wall art for sale, there is no better place than Badcock. Contact us today or schedule a trip to one of our locations and find great wall art today!