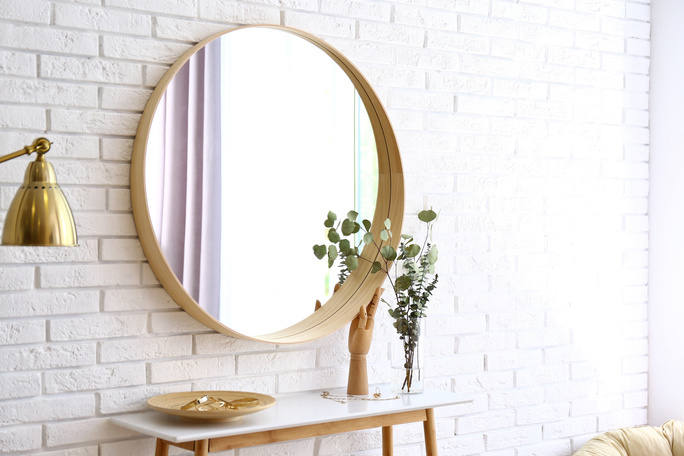 Mirrors are not a highly thought of aspect of interior design. However, including mirrors in your design can benefit your home in many ways. From creating more light in the room to opening up space, decorating with mirrors will help improve your interior design ambitions. 
Some homeowners think of a mirror as something you hang in your bathroom or above a dresser, but there are many uses for hanging a mirror in your home.
Besides getting various uses— such as checking yourself out or creating an accent wall — a mirror for interior design and its placement can greatly impact the illusion of your home.
What to Consider When Hanging A Mirror 
Decorating mirrors depends on your style as a homeowner. Additionally, there are tips you should always consider when hanging a mirror in your home.
Firstly, you should consider frame and style. The interior design style such as modern, traditional, edgy, or classic will create a different effect in each household. 
Secondly, a mirror should be hung at the appropriate height. Unlike placing artwork at eye level, a mirror's placement will depend on what you want to be reflected. 
Lastly, hanging a mirror will take more than a simple nail in the wall or wire. Using proper wall hooks at each end of the mirror will secure it flat against the wall. Hanging a mirror at an angle can be beneficial in some spaces but can create a distorted image. Furthermore, a wire-hung mirror can easily be knocked down.
Decorating with mirrors allows you to double light sources, create illusions, and generate various spots to do a quick outfit check.
Different Ways to Decorate With Mirrors
There are many ways to decorate with mirrors in your living space. Especially those creative home options that homeowners have never considered, such as creating reflections, focal points, gallery walls, and more.
Reflection
There can be many ways to reflect light in your home. Incorporating a mirror in your living space for natural light is a brilliant way to lighten a room. However, before you hang any mirror in your home take into account what's across from it. 
Most of the time, homeowners hang mirrors above their vanity or in a bathroom but finding raw wall space can be favorable. Furthermore, wall space with a window across from it will significantly increase the amount of light let into the room.
Bring The Outside In
By placing a mirror on a wall opposite one of your windows, you can create more light and a wide view of the outside. Doing this creates a trick on the eye and can almost make one feel as if the exterior of the house is on the inside.
Focal Point 
Create a focal point with a mirror for your guests to be drawn to. Oftentimes, a focal point is placed above mantels or in dining rooms where guests take notice of it. 
To better enhance a focal point, you can hang sconces on either side to create a balanced look for the eye. 
Gallery Wall
Many homeowners like to integrate a gallery wall into their living space. This can be easily accomplished with photos and wall art, or mirrors!
Mirrors create a sleek arrangement that allows you to add your sense of style as a homeowner. For example, you can center your gallery wall with a unique framed mirror or a bold pop of color.
Fireplace Mantel Decor
If you have a fireplace, use a mirror in your home to act as a mantelpiece. Many homeowners resort to the customary tradition of placing a TV above it or sprucing it up with candlesticks and fake greenery.
By adding a mirror above your mantel, you are training the eye to focus on that piece and what is reflected in it. Furthermore, decorating with a mirror can change the color, texture, and brightness of the room.
Simple Mirror Tricks
Decorating mirrors can be intimidating, but as a homeowner, you are allowed to do as you please in an area that is your own. 
There are many ways for you to explore including a mirror in your interior design space. Some more easy mirror tricks may include:
Painting the frame of an older mirror a fun color, such as red or gold.

Using two arched mirrors and hanging them side by side above your bed to create a one-of-a-kind headboard. 

Hanging a long-length mirror on the back of your bedroom or bathroom door for extra space.

Using a large mirror in a small space to create an illusion.
Additionally, mirror interior design is an effective tool used by homeowners that fulfill the practical purposes of gussying yourself up and creatively designing an area. 
Incorporating mirrors within an interior design style has become more popular recently, and allows a homeowner the choice in style and influence. Deciding how to decorate with mirrors can be difficult if you're not an interior design specialist. For help in creating a schematic interior design style that incorporates the use of mirrors, contact us today.