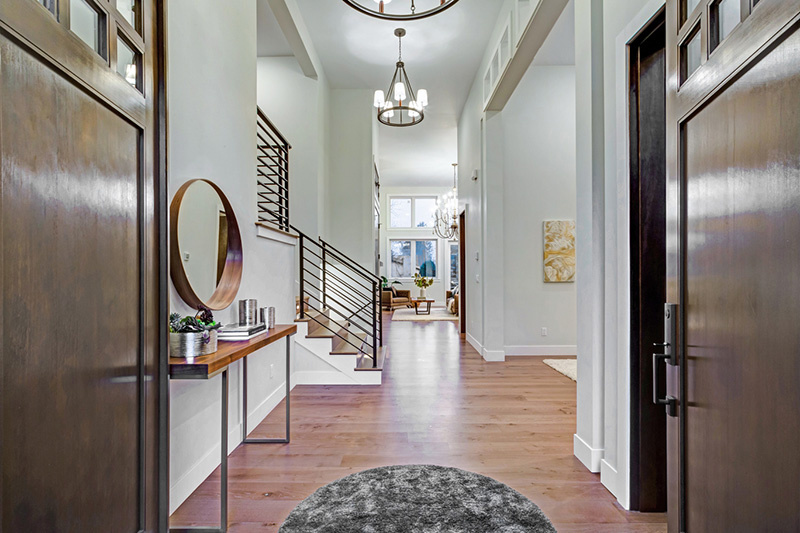 A home entrance may be one of the most important spaces you invest your time in. It is a catch-all space that guests, family members, or anyone visiting you will have to walk through. 
A home entryway has many jobs; it's the landing place for your kids, animals, significant others, and even you after a long day. Since it has so many jobs, your entryway may get a little crowded and out-of-place.
For an updated design and entryway organization that will have you easily transition from the workday to home life, follow this updated design guide. 
The Typical Items For An Entryway Design
The home entrance is the area that welcomes everyone into your home. Whether it be the food delivery driver or a salesman trying to sell you something, everyone will see it.
The first step to recreating an entryway with organization is to be realistic. If you drop your keys or sift through the mail by the front door, it will be beneficial to include a place for those items to go.
The typical entryway to a home will include places for you to drop your keys, take off your shoes and coat, leaf through the mail, and anything else you typically do before entering the rest of your home. 
Some vital design elements for your home entrance can include hooks, a bench, cubbies, shoe holder, mail holder, baskets, or a rug.
Hooks
Hooks are used in any type of space and offer help when you're trying to declutter. Hanging a hook in an entryway can provide an area for you to hang coats, hats, umbrellas, or keys. 
When it comes to getting organized, a hook can be used in large and small spaces.
Any type of hook will help to declutter the floor, but there are a few designs you can consider. There is the single hook and then the two-prong and circular style which both tend to be the best at holding a myriad of items.
Benches are a staple to home entryways, but they are usually under thought when coming to front entrance decoration. 
They offer the perfect area to sit while taking your shoes on and off. Buying a bench with shelving underneath or one that hinges open can multiply your storage options. Hinged benches are perfect if your home doesn't have a coat closet. You can store extra coats or shoes in the bench area where no one will see them.
Wooden benches are good options in a busy family environment as they offer more durability than upholstered benches. They are also easier to clean with animals and children in the home.
Cubbies & Baskets
Cubbies are another popular option for homeowners as they amplify your storage space. If you have cubbies in your home you can use them to store bags or shoes. You can also place knick-knacks on the top that you find convenient or cute. 
If you prefer to keep an even tidier area than the cubbies allow, you can purchase baskets that fit in the space. By choosing to use baskets, you can now design the foyer to more of your preference.
Baskets can be used as catch-alls for accessories like umbrellas or bags, and are perfect for guests' belongings when they come over.
Shoe Holder
Instead of a cubby for your shoes, a lot of homeowners resort to choosing a closed storage area. The shoe storage should only be big enough to hold your everyday shoes. That could mean your go-to sneakers, sandals, slides, or work shoes. 
The convenience of having them by your front door is beneficial as you don't have to see or smell them. You also won't have to search through your other shoes for your most worn pairs.
The most helpful part of having a shoe holder at a home entrance is the ability to hide your shoes while creating an efficient way to store them.
Mail Holder
Mail holders range in style and are an easy way to create an area for bringing in and sifting through the mail. 
You can find a cute bowl, long dish, envelope box, or specified mail organizer to hold your mail.
A rug can create the pop of color you desire in your entryway design. This high-trafficked area is the perfect place to include a durable, stylish rug. It can also create a defined area in your home if you have an open concept layout. 
To find the perfect match for you, aim to buy one that will stand up to the elements, such as rain, snow, or mud, and is resistant enough to individuals taking on and off shoes. Most rugs are also sold with good traction that helps you avoid slips and falls.  
Furthermore, you will want to consider a rug that is easy to clean. Rugs made from cotton, silk, bamboo, or sheepskin are not ideal entryway materials. Wool rugs naturally resist dirt, are easier to clean, and work to reduce noise in the area it's being used. 
What Not To Include In Your Entryway Design
When you go to design your front entrance some items should not be included in your entryway. Some of those include:
An expensive rug

Let clutter happen

Cheap curtains

Wild colors

Large furniture 

Family photos
Make An Impression
As a homeowner, you aim to welcome and impress your guests. Making a good impression on your guests starts with room decor and the space they walk into. Making the right choices on design elements and decor can help your entryway make an impression. By creating this space, you will have an inviting and timeless foyer that is also well organized. 
To make an impression in an entryway, many homeowners resort to using wallpaper. Wallpaper can add texture to an area and create a lively atmosphere for welcoming guests. For those that have smaller entryways, wallpaper is ideal for capitalizing on wall and ceiling space. It also allows you to bring in your flare of style as the homeowner. 
A faceted mirror or plain mirror with no frame can be a great way to amplify the natural light in the space. If you have a front door with a window, you can place the mirror across from that to catch the best sun. For those that have symmetrical windows beside your front door, you can center the mirror to catch the best light. Those without natural light sources can still make use of a mirror in their foyer. 
A mirror may be another impressionable decor item but it also has its practical uses. For those that run late, or just like to make sure you look good, a mirror in the home entryway is the perfect place to do last-minute outfit and make-up checks.
There are other ways to make an impression in your home entryway, but those require more effort and are referred to as insta-worthy spaces.
Instagram-Worthy: Think Outside The Box
For those that believe in the presentation of a room, an insta-worthy entryway is another way to create an entryway design. Insta-worthy entryways don't have much of a difference from the regular foyer but include more statement pieces that leave people asking, "how did you think of that?"
If you're looking to make an impression with your front entrance decor, you can include pieces like:
An antiqued chair or vintage dresser. Use it as a staple piece. It will create a warm, nostalgic look that meshes with any style choice.

A bold accent wall.

Wall art or a gallery wall to showcase some of your favorite photos and travels. A group of frames piques interest in people. Although, you may want to stray from family photos and save those further inside your home.

A wall with pegboards to place or hang what you'd like on it.

A lighting fixture or statement chandelier will draw the attention of the eye up and create a more illuminating foyer.

Candles or essential oils to make your entrance smell refreshing.
At Badcock, we believe creating insta-worthy entryways can be done in any entryway size. If you feel that your space cannot create an inviting foyer, you can consider it an opportunity to challenge yourself in interior design. 
If you don't have a dedicated foyer area, you can create one with any bench, hook, and basket. However, if you want to create a space that keeps people talking, you will want to consider more outside-the-box options.
When you start to design your home entrance, contact us for creative ways to complete your design.