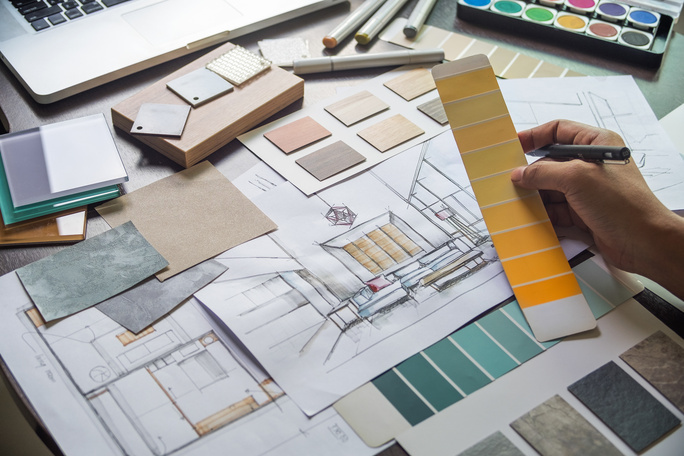 Interior Design Ideas for South Florida Homes
When you think of Florida, palm trees, beaches, and the words "laid back" and "tropical" come to mind. Living in the Sunshine State means that you're probably going to get used to seeing certain styles, which leads us to suggest some Florida interior design ideas.
At Badcock Furniture, you'll find all your home and decorating essentials to make your abode the tropical paradise you've always dreamed of. 
One of the main trending Florida interior design ideas of 2020 is individuality. Having a home that is sustainable, with neutral colors and natural light, will keep you at the forefront of what's cool. This style will also help you feel comfortable and collected in your Florida home.
Here are nine other Florida interior design ideas for your home.
Keep Tropical Patterns in Mind
You can't go wrong with anything tropical-inspired in your home. Palm-tree stamped fabrics paired with wicker or bamboo will transplant you into the Florida swamplands. To achieve this look, try out our Emma beige sofa and loveseat for your living room. The wheat-colored fabric and the dark cherry wood trim make for a piece that's straight out of an old Palm Beach house. 
Use Furniture that Has Round, Soft Edges
Furniture with sharp corners can create a stressful home environment. Find tables with rounded edges so that you can feel happier and more relaxed. Our Nadine Chrome Cocktail Table provides a perfect example of the kind of softer-looking furniture you need.
Buy Pieces with Light Colors
Florida is the home of sunny skies, so it's fitting to have lighter colors in your home. When it comes to Florida interior design ideas, lighter colors are a key component. Light blue, teal, pinks, and greens reflect the colors you see in Florida's beaches and plants. Our Halston pale aqua leather reclining sofa and console loveseat is made with a beautiful light blue color that shouts Florida. 
Neutral colors are another smart choice for Florida decor since they go with so many things. If you want to add another color to your furniture, try using an area rug, a throw blanket, or accent pillows. You can do a lot with a neutral palette in your room. 
Focus on Minimalism
Sometimes, less is more. Keep the colors in your house to a lower number, and buy furniture that has geometric shapes. By focusing on minimalism, you'll be able to make your home a more comfortable place to live and relax. 
Geometric shapes can be traced back to Aztecs, but they became more popular in home decor in the 1960s. Since then, they've become a classic part of interior design, especially in Florida. These shapes have a youthful feel to them and will keep your home from feeling stuffy. 
However, you don't have to strictly stick to two colors. You can also add an accent wall in one of your rooms to give a pop of color. Find lighter pieces of furniture to go against this part of the room. 
Find Wall Art with a Beach Vibe
Paintings like our Praveen wall art give off an ocean vibe and an abstract view of the ocean.
Having multiple mirrors can make your space look bigger if you have a small home or apartment. Look to pieces like our Sunburst wall mirror for inspiration. It's shaped like a gorgeous and grand sun, finished in bronze with a black wash. 
Even if you live in Florida but aren't near the beach, you can have a home that closely matches it with some beautiful wall art. 
Use Mirrors to Expand Your Space
Mirrors will make your home look bigger and also bring more light into it. As we know, Florida homes are all about natural light. These are especially effective in bathrooms and other small rooms. If you want a mirror in your bedroom, place a large floor-length one against the wall to really expand your space. 
Mirrors also works in houses that have Florida garden views. 
Use Natural Materials in Your Pieces
Aim for materials like cotton, wool, or silk instead of synthetic fabrics like polyester and fleece. Biophilic design is the use of natural materials in your home, and it's high on the list of Florida interior design ideas. Studies have shown that incorporating these materials can reduce stress and help you sleep better. 
Do you walk on the beach often? Pick out some interesting shells and scatter them around different locations in your home. Having these around the house will make your feel like your toes are in the sand.
With these natural materials in your home, you're bound to feel more peaceful and rested. This will surely benefit your psychological well being. 
Add Some Metallic Accents to Your Room
You don't only need natural materials to achieve the Florida look you want. If you're looking for more of a South Beach feel, you'll want to incorporate some more metallic accents in your pieces. Our Manhattan gold accent table has the perfect mixture of sophistication and beauty to add to your home. 
Incorporate Plants Into Your Home
Plants are all the rage in interior decorating these days, and more and more people are learning how to take care of them. Buy some cute planters and put some greenery in them. African violets and air plants are good for indoors and easy to maintain. Plants also help clean air indoors by releasing oxygen and absorbing toxins. They'll improve your mood and also boost your creativity.
If you don't have a green thumb, you can always use fake plants. Our artificial Bromeliad plant or our Ficus tree would make a beautiful addition to any home. 
Find Your Perfect Piece at Badcock&more of South Florida
No one knows Florida design better than Badcock Furniture of South Florida. Visit one of our 12 convenient locations to view our many pieces. You can always browse our website as well to see items that might not be in our stores. We guarantee that we'll have the perfect home decor for you!