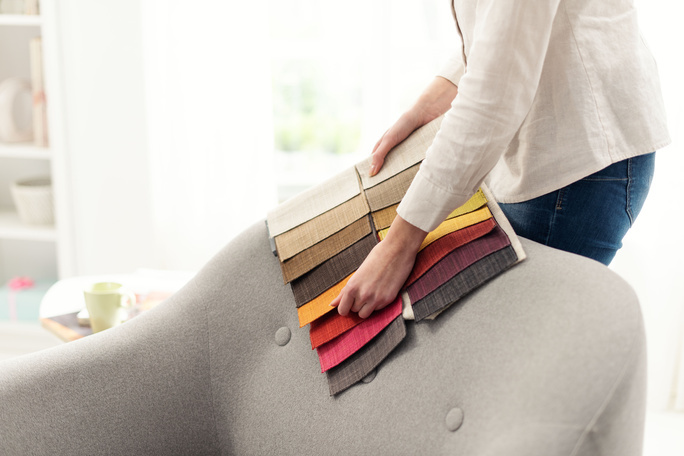 Choosing the Right Upholstery to Match Your Furniture

The furniture that you decide to put in your home should be looked at as an investment. It can make or break the look of any room. Choosing the right upholstery can complement a living room, bedroom, or dining room's overall theme and provide a luxurious level of comfort. However, choosing the wrong material can lead to an ununified look, and you'll find yourself continually battling unwanted stains and snags.
What Exactly Is Upholstery?
Before we can go into the specifics of choosing the ideal upholstery for your furniture, we must define just what upholstery is. Upholstery is the name given to the fabric, webbing, springs, and padding of a piece of furniture. In simple terms, you can regard upholstery as the combination of soft coverings for sofas, chairs, and other furniture.
Start With Defining Your Basic Needs
Before you head off to the furniture store, you must take a moment to consider your basic needs for the piece. Far too often, consumers make their buying decision based on the piece's look with complete disregard for its practical use. You don't want to fall into this category of consumers.
Rather, begin your upholstery buying experience by answering a couple of questions:
Where will the piece be used?

Who will use the piece?

How much maintenance are you willing to commit to?
Many factors can influence the practical use of your furniture. When you answer the above questions, you should have a clear idea of what you need in upholstery material. Now, it's time to dig deeper into picking the right material to fit your needs.
Durability
The next step in how to choose upholstery fabric that fits your needs is to consider the level of durability your home requires. Depending on where the piece will be used and the personal aspects of your family, there are a few different options that you can consider.
Woven fabrics tend to be the most durable. They hold up longer than printed fabrics.


Upholstery comes in different thread counts. The higher the thread count, the more dense the fabric. This means that it will be more durable than lower thread count options.


If you have pets, microfiber and leather upholstery tends to stand up better to consistent wear and tear.
Style
The next step in how to choose upholstery fabric involves choosing a harmonious style. When you think of style, you should be considering two aspects. First, the upholstery style should go well with the interior decor of the room it will be in. Second, the style of the upholstery should complement the actual design of the piece of furniture.
You want your new piece of furniture to be harmonious with your home. You'll need to consider aspects of the upholstery fabric, including the size of the pattern and the textured look. For example, if you have a large room, you can opt for a larger upholstery design. However, a larger fabric design on your upholstery can be too much if your furniture is going in a small, confined room.
The actual design of your piece of furniture is a big contributor to the upholstery style that you pick. They should fit well together. For example, if your piece of furniture is crafted with a traditional style, then you should consider using more traditional fabric.
Color
Many guides on how to choose upholstery fabric will start with this attribute as it tends to be one of the most considered by homeowners. However, we placed this attribute lower down in our list of considerations because we want to remind you that it isn't the sole deciding factor you should go off of. There's no denying the fact that it's a must to consider. However, the style and durability of your upholstery fabric are just as important.
The color of fabric that you choose can have a big impact on the design of your room. Since you won't be changing upholstery often, you need to ensure that you choose a fabric color that you can live with for a long time. It's best to start the process of choosing the right color by considering what temperature you're going for in your space. Warm and cool colors can affect your mood and your overall design.
Warm Colors: Orange, Red, Yellow, In-Between Combinations
Warm colors are those that visually warm the room. They remind you of sunlight and heat. They're best for rooms that you want to appear more intimate or cozy, such as a large bedroom or living room.
Cool Colors: Blue, Green, Light Purple
Cool colors are those that remind you of the sky, ice, snow, and water. These types of colors work to visually enlarge the piece.
Neutral Colors: Greys, Tans, Whites
Neutral colors are great for those who don't want to commit to either a warm or cool color. These neutral tones provide a safe choice that blends with many different room decors.
Fade-Resistant
Sunlight can be a big problem for the lifespan of your upholstered furniture. When items receive direct sunlight via a window or skylight, the UV rays can cause the fabric to fade. If you're going to be placing your furniture in a room that receives a lot of direct sunlight, you should opt for a fade-resistant fabric.
Pet-Friendly Upholstery
Pets are a big factor to consider is how to choose upholstery fabric for your furniture. You need to consider a fabric that will withstand the constant wear and tear of your pets. You'll want one that also keeps pet hair collection at a minimum. Here are two tips to consider:
Select A Fabric With A Tight Weave

Avoid Fabrics With Complicated Textures
Fabric Type
Now, since we've discussed some of the key factors that you'll need to consider how to choose upholstery fabric, it's time to take a look at the most common fabric options.
Chenille
This fabric is somewhat similar to velvet in its appearance. Chenille is a great fabric choice for furniture pieces that are going to be heavily used, and when you have pets.
Microfiber
Microfiber is a very strong fabric that is abrasion-resistant. It's perfect for pieces that are getting heavy use. Its multi-weave appearance gives it a higher-class look. Microfiber can also be commonly referred to as faux suede.
Velvet
Velvet is a dense fabric that has a luxurious sheen and softness. It can withstand heavy usage. However, it can be easily stained when spills are not attended to immediately.
Tweed
Tweed also referred to as basketweave, is a very textured fabric. It's great for hiding stains and signs of regular wear.
Faux Leather
When you're looking for a fabric option that looks good with any interior design and is easy to clean, faux leather is it. This sleek fabric can withstand high use without showing signs of wear.
Jacquard
A much classier look that other available fabrics, jacquard is a yarn-dyed fabric. It' has a heavy feeling and provides an abundance of texture and style to any piece. Jacquard is commonly used for decorative pieces.
Leather
Leather is a commonly chosen material for furniture as it provides a timeless design that matches almost all interior designs. Leather is very easy to clean, and it provides a more pristine look after a couple of years of use.
As you've discovered, there are many factors you'll need to consider when choosing an upholstery fabric. If you've found it a bit overwhelming, then it's time to talk to one of our experts at Badcock Furniture about how to choose upholstery fabric. 
Come into one of our conveniently located showrooms or during this time shop online and inquire about our free express delivery. We can work with you to find the perfect fabric for your next furniture investment. Contact us today!