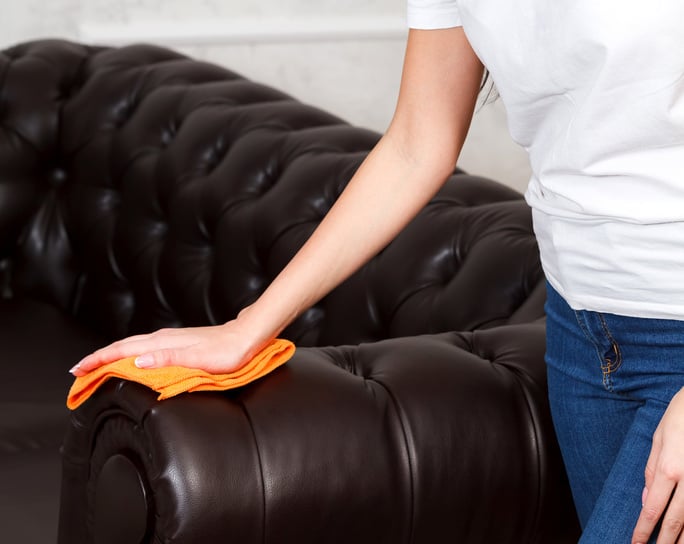 Part of any good furniture buying decision is determining the level of maintenance that the pieces will require. Different materials and the overall intricacy of the piece of furniture will play a significant role in the care level it requires. We're going to discuss some of the best care practices for various types of furniture so that you can make a more informed buying decision to fit your needs.
Furniture Comes In Many Different Materials
Before we can discuss the specifics of furniture care and how to clean furniture, we need to start by identifying the various materials. Furniture is typically constructed out of one of the four materials listed out below:
Wood

Upholstery

Leather

Glass
You'll need to know what type of material your furniture is made out of to start with. Each different material requires its own unique furniture care method. To make things simple, we're going to discuss the best cleaning practices for each furniture material type.
Wood
Wood is a very commonly purchased material for furniture. It looks timeless with any sort of decor, and it's fairly easy to maintain. However, wood can be a bit on the expensive side. This creates all the more reason why you want to ensure you know how to clean furniture made of wood correctly.
The furniture care practices for wood start with properly identifying the finish. You want to be mindful of this finish as improper handling can result in the destruction of the outer finish. When the finish is damaged, it will not only change the look of the piece, but it will make the wood more susceptible to damage.
Dust Frequently
The most basic furniture care tip for wood is simply committing to dusting it off regularly. This practice removes the loose dirt and debris that settles on the piece of wood furniture. Be sure to use a damp cloth when dusting. This ensures that you actually collect the dust and not scatter it throughout the air.
Deep Clean
While dusting can help to remove debris, it's not going to omit the need for regular deep cleaning for your piece of furniture. For deep cleaning, you should be purchasing detergents that are specifically designed for wood. Wood-specific cleaning products protect the wood and limit the amount of water used during cleaning. You should be very careful not to use excess water with wood as water can easily damage it.
Polish Or Wax It
Depending upon the recommendation of the manufacturer, you should polish or wax your furniture every so often. This practice helps to create a protective surface layer for your piece of furniture and revives its elegant look.
Cleaning Materials Needed: Microfiber Cloths, Wood Cleaner, Wood Wax / Polish
Upholstery
Upholstered furniture is a common investment for many homeowners. Not only does it bring texture and color to furniture items, but it brings comfort too. Here are some tips on how to clean furniture that is upholstered:
Vacuum
When you get the vacuum out to take care of your floors, you should do your upholstered furniture as well. This helps to avoid excessive accumulation of dust and debris that can drastically reduce the look of the piece. Aim for vacuuming your furniture at least once per week.
Deep Clean
Upholstered furniture can be constructed with many different types of fabric. Each one requires its own specific cleaning compound. When at the store, opt for purchasing a cleaning product specifically made for the fabric on your furniture. For example, wool cleaning products for wool and cotton cleaning products for cotton.
Reorganize Often
Part of furniture care is ensuring that your pieces last for their intended lifespan. One great way to extend the life of your items is to reorganize them. This practice could be as simple as switching the pillows around on your couch or sofa. Try to ensure that every pillow gets an even amount of wear.
Cleaning Materials Needed: Vacuum, Fabric Cleaner, Microfiber Cloths
Leather
Leather is a unique furniture material that provides a pristine look even as it ages. Because of this unique feature, leather tends to be an expensive material. Here are some cleaning tips you should be following to ensure the health of your leather furniture well into the future:
Dust
Leather is a fairly solid material that can be easily dusted. Use a moist cloth to run over the surface of the leather. Be careful not to use too much water as it can damage the surface.
Deep Clean
You need to be very careful when you clean your leather pieces because certain detergents can harm them. Opt for purchasing some saddle soap to clean your leather items. Again, avoid using an excessive amount of water as it can cause mildew and surface damage.
Cleaning Materials Needed: Saddle Soap, Microfiber Cloths
Glass
We've saved the easiest furniture material to clean for last. Glass is super simple to clean and provides a nice sheen when completed. Usually, microfiber cloth in hot water can take care of most stains. If you need some extra power, opt for using a glass cleaning compound. Just be sure to avoid using too much as it can result in unwanted streaking.
Cleaning Materials Needed: Microfiber Cloths, Glass Cleaner
How Can You Protect Your Furniture From Pets And Kids?
One trip to the furniture store, and it becomes immediately clear that furniture is a big investment for anyone. You want to help secure that investment from harm. If your happy family includes some young kids and some furry pets, you need to take some extra precautions to ensure the lifespan of your furniture.
Slipcovers
Okay, slipcovers may bring back that memory of your grandparent's couch being covered in that squeaking plastic that kept sticking to your thighs. The reality is that slipcovers have developed a lot over the years. They're available in more modern designs that are both comfortable and stay in place.

Modern slipcovers can be easily placed over your entire furniture item to protect its integrity. When the slipcover gets dirty, simply throw it in the washing machine. These are a great solution for busy families:

Strategically Placed Blankets And Throws
Sometimes you may notice that you have specific areas of your furniture that seem to be more susceptible to damage. Instead of worrying about covering up your entire piece of furniture, you can easily use a blanket or throw to cover up a spot. For example, if your cat finds her home on the one arm of your couch, cover that arm with a blanket. The blanket will prevent unwanted scratch marks and excessive hair buildup on your piece of furniture.

Place Enticers Near Furniture
Every cat owner knows that it can be quite frustrating when your cat decides to put their claws into everything you own, including that expensive couch. You can help to foster better habits by placing a cat scratcher strategically near the piece of furniture. As soon as your cat scratches, you can deter their behavior by placing them in front of the scratcher.

It's common for dogs to find a favorite spot to lay on your couch or chair. Apart from the excessive amount of dog hair they leave behind, they can also cause unwanted scratches in the furniture and uneven wear in the cushions. It's best to place a dog bed near their favorite spot. The dog bed gives them an alternative space to lay and can easily deter them from lounging on your furniture.
Contact Badcock Today
Learning how to clean furniture the right way can seem like a big undertaking. Luckily, the professionals at Badcock Furniture can assist you in all your furniture care needs. This way, you can invest in the right type of furniture for your home that will be sure to last.
Contact us
today!