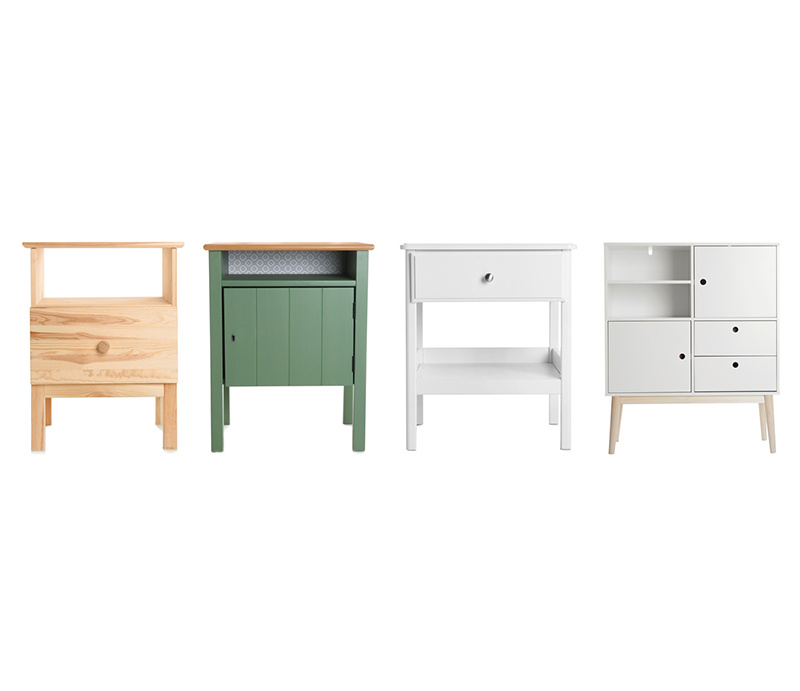 Small bedroom chests are a must-have for almost every home out there today. No matter how many people live in your household, you need a proper storage space to put your clothes, socks, shorts, and just about anything else you need. Chests can be put anywhere in the house and create a convenient and cost-effective way of storing your items, whatever they may be. At Badcock Furniture of South Florida, we offer many different styles and colors that can match just about any home. 
Chests fit perfectly in any bedroom and create a convenient and effortless way to store anything you need. They can also be placed in bathrooms or other areas of the house as well. Storage may not be the first thing on everyone's mind when they think of necessary house appliances but they are essential to your daily routine. Not only does it add spice to your bedroom and home but it also creates an effective place to put all your attire and accessories. 
If you are looking for quality furniture, look no further than Badcock Furniture. We provide speedy delivery with a broad selection of chests, along with many other furniture options! It is one thing picking out any piece of furniture and it's a whole other process picking out a chest that matches your needs and style. Chests are a necessity when it comes to your home and bedroom, so why not get a piece that matches your lifestyle and needs effortlessly?
Practical Storage Space
Many people often have clothes scattered throughout their house due to a lack of storage space. With kids, this situation can be even more of a problem. Investing in a good-sized dresser will mitigate this stress and prevent wastage of time trying to find things in cluttered chests. This type of furniture functions as a space to store all different kinds of clothes, while simultaneously keeping clutter in your room to a minimum. With Badcock chest furniture, all your worries about ample storage space for your clothing can be put to rest. Our sturdy, multi-drawer chests will allow you to store layers and layers of clothes in an organized fashion.
Each one of our dressers is designed with the perfect combination of durability and function. If you have been looking for a small bedroom chest with little success, the perfect place to find one you love is at Badcock Home Furniture & More. 
Purchasing a Badcock bedroom chest will put an end to the countless times you've tried to find a matching pair of socks for your daughter from the tiny dresser in her bedroom. You can say goodbye to all the instances where you couldn't find the shirt you like from your small bedroom chest that is stuffed with other clothes. Buying chest furniture from Badcock Home Furniture & More will allow you to have a practical solution to these everyday problems.
So Many Styles and Options to Choose From!
Finding the right bedroom chest can set the tone for the rest of the room and serve as a beautiful piece that can complement other furniture you have. In addition to the practicality that our chest furniture offers, they also serve as stylish additions to your room. Whether you are looking for something classy, modern, old-fashioned, or sleek, Badcock has it all. 
Our various pieces of chest furniture come in several different colors, from smooth ivory to walnut brown to metallic gray to deep, shiny onyx. No matter what kind of personal style you or your house has, you'll find what you're looking for at Badcock Furniture. 
Our bedroom chests also come in a variety of styles. One of our most popular items, the Summit Cherry Chest, has a classic, modern style with gold metal knobs and features a cherry-brown finish. If you are looking for something more sophisticated and glamorous, our Olivet Metallic Chest is the perfect furniture piece. This bedroom chest has a silver coating with metal undertones, crystal-adorned pull knobs, and a design featuring multiple textural patterns that complement the uniqueness of this piece of furniture.
Our Grace White Looking Glass Chest is a furniture piece that has the best of both worlds -- the classic design of the chest is enhanced by the delicate ivory white color, ornamental handles, and the flowery design that adorns the edges. What differentiates this chest furniture piece from others is the decorative mirror on its right side. This chest is sure to be a charming, beautiful addition to your little one's room. The Summit Cherry Chest, Olivet Metallic Chest, and Grace White Looking Glass Chest are just some of the stylish dressers available at Badcock Home Furniture & More.
Chests that Will Bring Your Bedroom to the Next Level
With a huge selection of bedroom chests that our store has to offer, we are certain that each and every customer can find one that they absolutely adore, and at a reasonable price that they will like even better! Investing in a chest of drawers can instantly open up space throughout your room(s) and can serve as a practical, yet stylish way to organize your clothes. 
Chances are you probably have an old or underwhelming chest in your bedroom or bathroom. Chests are not only incredible additions to your bedroom but it also showcases your style and home without even trying. But at Badcock Furniture, we know how important picking out the right piece of furniture for your home really is. Whether you live alone or have a family, chests are a necessity. No matter who you are, having a place to put all your clothing, accessories, and personal belongings is a must-have. 
Looking for bedroom chests can be tricky at first. If you live in South Florida, Badcock locations in Fort Lauderdale, West Palm Beach, Delray Beach, Pompano Beach, Plantation, Hollywood, Lake Worth, Lake Park, Cutler Bay, Miami Gardens, or Florida City, can make finding the perfect chest furniture an easy task. We'll help you out every step of the way until you find what you are looking for. Finding that perfect set that matches your home and personal style is just a few clicks away! 
Upgrade Your Home at Badcock Furniture of South Florida
There is no better place to get quality and affordable furniture than at Badcock Home Furniture & More. We have a great variety of different styles, designs, and furniture options - whatever you need, we have it! We make the process hassle-free and smooth so you can enjoy your home or office to the fullest extent. We have everything from chests to electronics to chairs, and anything else you need. Now's the perfect time to upgrade your furniture to the next level! 
From ample storage space to various style options, purchasing
chest furniture from Badcock
is an easy process. Our experienced professionals will make sure to help you find the bedroom chest of your dreams! We help you get the best deals on quality furniture, ones that both you and your guests will be happy to enjoy. Visit our website or
give us a call
to get more information about our products and learn about our delivery process.